Our take
The Topping E50 is a budget-oriented, high-performance DAC that can decode PCM up to 32bit-768kHz and DSD up to DSD512, natively, via USB. It is powered by the ESS Technology's ES9068AS premium-tier DAC. The E50 sounds neutral and clean to my ears.
Product details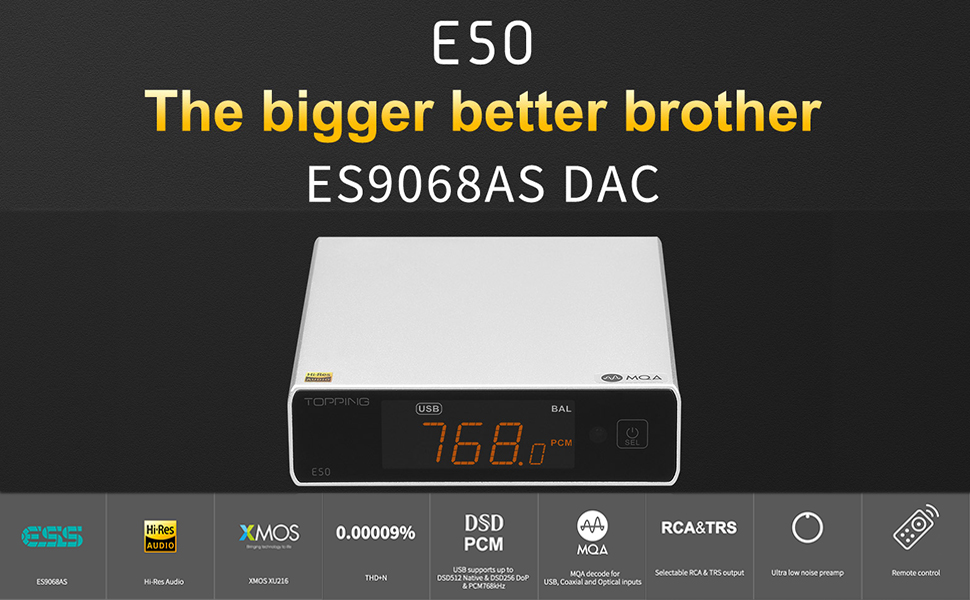 The E50 is a high-performance DAC with three digital inputs, one RCA unbalanced output and one TRS balanced output.
It can be used as a simple DAC or DAC+pre-amplifier, we hope it could bring you more fun at enjoying music.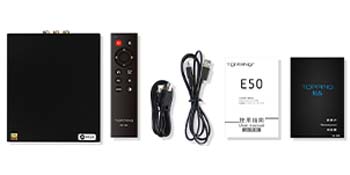 TOPPING | E50 DAC
Package list:
1 × E50 mqa dac
1 × DC Cable; 1 × USB Cable
1 × Remote Control;
1 × User Manual

USB Supports DSD512&PCM768kHz

Only for Windows ASIO applications, you need to install the driver and set it up.

ES9068AS DAC Chip

E50 uses the latest high performance DAC chip ES9068AS. With our excellence in design and engineering, it provides realistic and transparent sound quality.

Good sound quality

With the help of careful design and adjustment, E50 provides a distortion as low as 0.00009% and a dynamic range of 126dB, providing you with perfect sound quality. This also makes E50 suitable for applications: high-fidelity PC-HIFI system, mobile phone/tablet OTG, CD player/turntable external DAC, digital broadcasting external DAC. TV DAC and so on.

High resolution audio

USB input has the best performance of E50. It uses XMOS 2nd 16-core processor XU216, which brings the support of 32bit768kHz PCM, DSD512 native high-resolution audio and MQA full decoding. Even in ASIO application, we have customized Thesyon driver for Win10.
Note: In the DAC mode, the volume is fixed at 0dB, and the volume adjustment is invalid.
Selectable output ports

E50 has full balanced TRS output and single ended RCA output. You can choose "TRS only", "RCA only" or "TRS + RCA" output to meet different usages in the multiple systems.(Please note that the TRS ouput of E50 does not support any adapter to convert to single-ended, nor can it be directly connected to headphones.)

All inputs support auto on/off function

E50 auto On/Off function, it will automatically turn on and set to the input which the signal is valid. And when the signal of E50's selection is not valid for 1 minute, E50 will turn off automatically.

5V power supply anytime and anywhere

E50 uses a DC5V power supply, which can be easily accessed almost everywhere. You can power it up by USB port of PC, mobile phone charger or even a power bank.(Note: The product does not provide a 5V power adapter.)

Coaxial and Optical(Toslink) also has good performance

On the E50, the traditional optical and coaxial input not only supports 24bit192kHz PCM, but also supports DopDSD64 and MQA rendering.


TechX Guarantee
We understand the anxiety of shopping online in Malaysia particularly on startup and small business website; you don't get to physically hold the product before buying, how will you know if the product will live up to your expectations, ... - which is why we are committed to
Only sell/advertise products or brands that we believe in

Thoroughly research a product/model to save you time and get the most value for your money

Go the extra mile to properly package items for shipping

Rely on reputable courier service (*not necessarily the cheapest)

Provide second to none customer service (Lazada/ Shopee gets thousands of visitors a day, we have Only You to focus on)

Safeguarding your privacy & offer a seamless user experience on our ecommerce webpage

Ensure all pages and content on TechX are accessed using SSL encryption (*look for the padlock icon on the left side of the address bar...SSL allows sensitive information such as credit card numbers, login credentials to be transmitted securely)

Your satisfaction! We believe we sourced for the best quality products around, however sometimes life happens. If for any reason you are not 100% satisfied with the quality of any product, we will gladly refund your money + 20% of what your paid
In the event you still need further assurance, write to us via our Contact Form and we'll get back within 2 hours.