Our take
If you are interested in knowing the measurements and opinions from a trusted reviewer.
Aiyima A07 is one of the best amplifiers in this price category, if you are looking for a all rounder amplifier with huge amounts of power that can drive speakers than this is the one to go for
For the price point, The Aiyima A07 really shines and if you add a value DAC like a Topping D10 / IFI Zen Dac AIR / Topping E30, you will be getting some pretty good performance out of this little but powerful amplifier
As for speakers, this amp will do well with the Micca RB42 / Kanto YU Passives, you'll be getting a very good sounding system for below RM2000
We at techx highly recommend this amplifier if you are on a budget but want the best performing amp at this price point.
Product details
Aiyima A07 TPA3255 Power Amplifier 300Wx2 HiFi Class D Stereo Digital Audio Amp 2.0 Channel Amplifier for Passive Speaker Home Audio (A07+DC 32V Power Adapter)
Aiyima A07 TPA3255 Stereo Digital Power Amplifier 14.jpg
This AIYIMA A07 power amplifier adopt the TPA3255D2 amp chip and NE5532 op-amp chip. Very quiet, runs extremely cool, easy to set up. It's a nice mini audio component amplifiers for Home Audio stereo system
300W+300W HiFi integrated class D amplifier, exclusively designed for customers who pursue HiFi sound, high efficient max power output up to 300 Watt
Two input ways : 3.5mm AUX Audio input / RCA Audio input - 3.5mm interface is also Aux Audio output interface (3.5mm AUX set as audio output can connect to any Powered device : Speakers, Amplifier, Active Subwoofer etc.) For more detailed connection options, please refer to the picture shown
Simple compact design, and the exterior design is delicate and beautiful little amp, it can match your computer / desktop / Home theatre system and so on; A computer, an tube preamp (TUBE A3 PRO / T7 / T8), matched with our A07 home speaker amplifier, connected to your home audio passive speakers to form a perfect HIFI system, allowing you to liberate your ears from the noisy city
Packaged with a DC 32V 5A Power Adapter for free, but if you want to get the maximum power of 300W, you need to get a power adapter that uses DC 48V and current is above 7A (Do not use an industrial power supply, and please choose a passive speaker with the right power handling to match).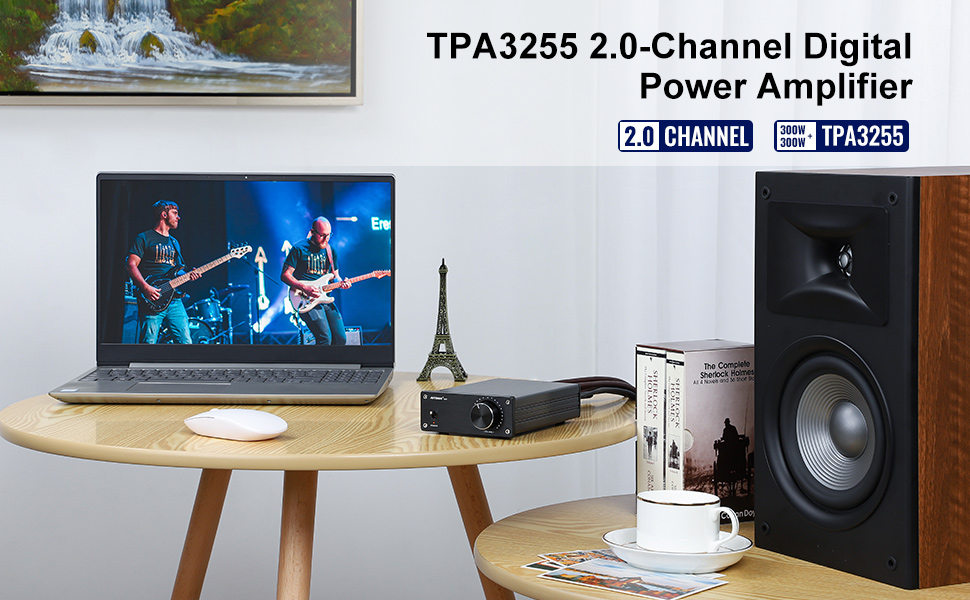 The TPA3255 is a high-performance Class D power amplifier and efficiency, true to high-end sound quality. The device features an advanced integrated feedback design and proprietary high-speed gate driver error correction (Purepath Ultra HD).
The dual 300W shocking bass output is compatible with passive stereo speakers of most sizes and impedance specifications.
Texas Instruments TPA3255, digital audio amplifier BTL bridge power output 300W x2 channel design, THD less than 0.03% while working continuously.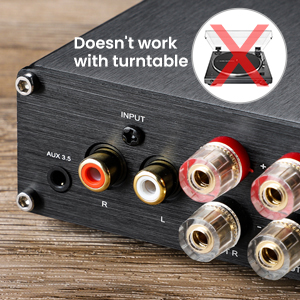 HiFi integrated class D amplifier
300W+300W Dual Channel audio amplifier, mini power Amplifier, more powerful, great sound
Build quality is surprisingly solid, nice touch
The dual 300W shocking bass output is compatible with passive stereo speakers of most sizes and impedance specifications
Two input ways : 3.5mm AUX Audio input / RCA Audio input
Note: When using a 32V or 36V power supply, the sound quality of the A07 amplifier will be better, the distortion rate will be low, and the service life will be longer, but the power can only reach the size of the voltage multiplied by the current. For example, using a 32V 5A power supply, the power can only reach Max 160W.
Therefore, please choose the speaker and power supply reasonably according to the requirements, so that the system can achieve the best effect.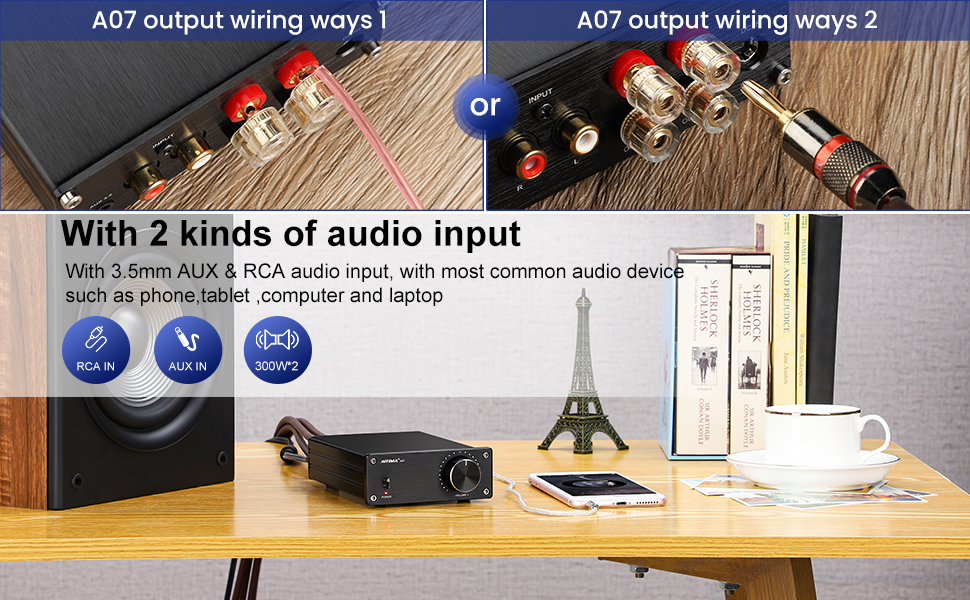 Uses TPA3255 Chip, digital audio amplifier BTL bridge max power output 300W x 2 channel design, THD less than 0.008% while working continuously
Please pay attention!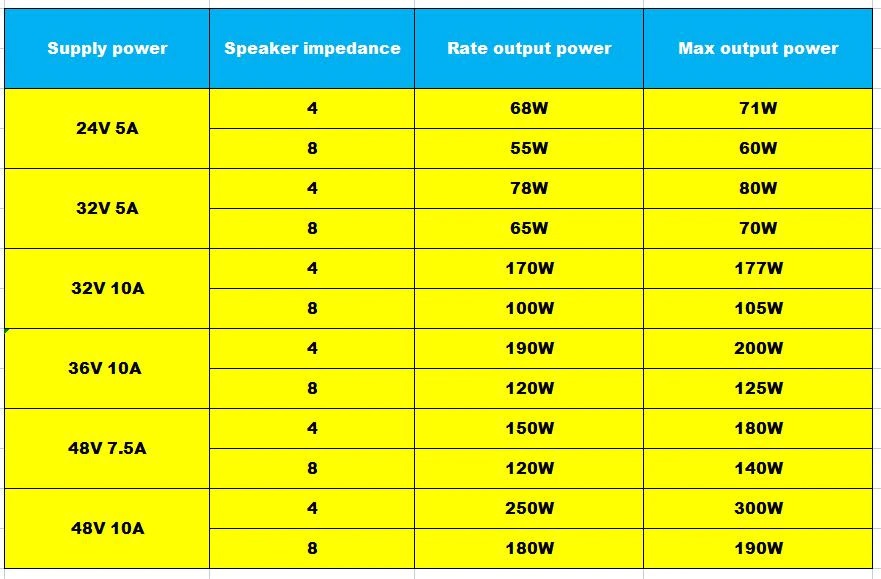 Using the corresponding power supply, the output power diagram of the A07 amplifier
Therefore, it can be reasonably matched according to the ratio of 1.2-1.5 to 1 between the power amplifier and the speaker
Packing List :
1x Aiyima A07 TPA3255 Stereo Digital Power Amplifier
1x DC 32V Power Adapter
1x User Manual
Tech specs
Amplifier Chip

TPA3255

Max Output Power

300W+300W (4 ohm load, under DC 48V, Current Over 7A)

Audio Input Ways

3.5mm AUX Audio input
RCA Audio input

Number Of Channels

2.0 Channel / Stereo

Power Supply

DC24-48V (outer diameter 5.5mm inner diameter 2.5mm)

Audio Output Ways

3.5mm AUX Audio Output (Connect active equipment) / RCA (Passive Speaker)

Impedance

4-8 Ohm

Size

153mm x 100mm x 40mm

SNR

110db

THD+N

0.008%

Gain

21.5db

Response


20Hz-20KHz
TechX Guarantee
We understand the anxiety of shopping online in Malaysia particularly on startup and small business website; you don't get to physically hold the product before buying, how will you know if the product will live up to your expectations,... - which is why we are committed to
Only sell/advertise products or brands that we believe in

Thoroughly research a product/model to save you time and get the most value for your money

Go the extra mile to properly package items for shipping

Rely on reputable courier service (*not necessarily the cheapest)

Provide second to none customer service (Lazada/Shopee gets thousands of visitors a day, we have Only You to focus on)

Safeguarding your privacy & offer a seamless user experience on our ecommerce webpage

Ensure all pages and content on TechX are accessed using SSL encryption (*look for the padlock icon on the left side of the address bar...SSL allows sensitive information such as credit card numbers, login credentials to be transmitted securely)

Your satisfaction! We believe we sourced for the best quality products around, however sometimes life happens. If for any reason you are not 100% satisfied with the quality of any product, we will gladly refund your money + 20% of what your paid
In the event you still need further assurance, write to us via our Contact Form and we'll get back within 2 hours.