Our take
Aiyima A4 DAC is a entry level digital to analog converter, If you are on a tight budget then this DAC would be a good option and you can upgrade it later down your audio journey
Aiyima A4 DAC supports LDAC and this bluetooth format which is a good thing at this price point, You can also connect the A4 using a Type C USB if you're not too keen on using the bluetooth
the Aiyima A4 DAC has a Coaxial output alongside the RCA outputs, You can connect the Aiyima A4 RCA output directly into your amplifiers.
this would pair well with the Aiyima A07 amplifier alongside with almost any passive speaker that u throw at it. But be warned that this is a entry level DAC at a entry level price, so you will not be getting the "best" performance but this setup can easily play music but if you're a critical listener then there are other options out there!
Product details
Aiyama A4 DAC / Bluetooth Receiver / Stereo Headphone Amp ES9038 Decoder CSR 8675 Bluetooth 5.0 LDAC / AptX-HD 24 Bit 96Khz USB-C Input RCA / Coaxial Output 5v USB-C Power
Aiyima DAC A4 Bluetooth Headphone Amplifier 11.jpg
Multifunction DAC / Headphone Amp and Bluetooth 5.0 LDAC / AptX HD Receiver in an all-in-one compact design
Digital-To-Analog decoder with 3.5mm amplified headphone output. Bluetooth 5.0 receiver for streaming Hi-Res audio supporting these codecs SBC / AAC / APTX / APTX-LL / APTX-HD / LDAC
Devices supported include PC / Mac via USB, iOS, Android devices, and other digital players via Bluetooth
All metal aluminum chassis construction with metal knob and switch
USB-C 5v input, power using computer, USB power brick, or AC USB adapter and cable (not included), upgrade your sound for better music enjoyment with AIYIMA
DAC-A4 Bluetooth 5.0 Headphone Amplifier and Digital to Analog Converter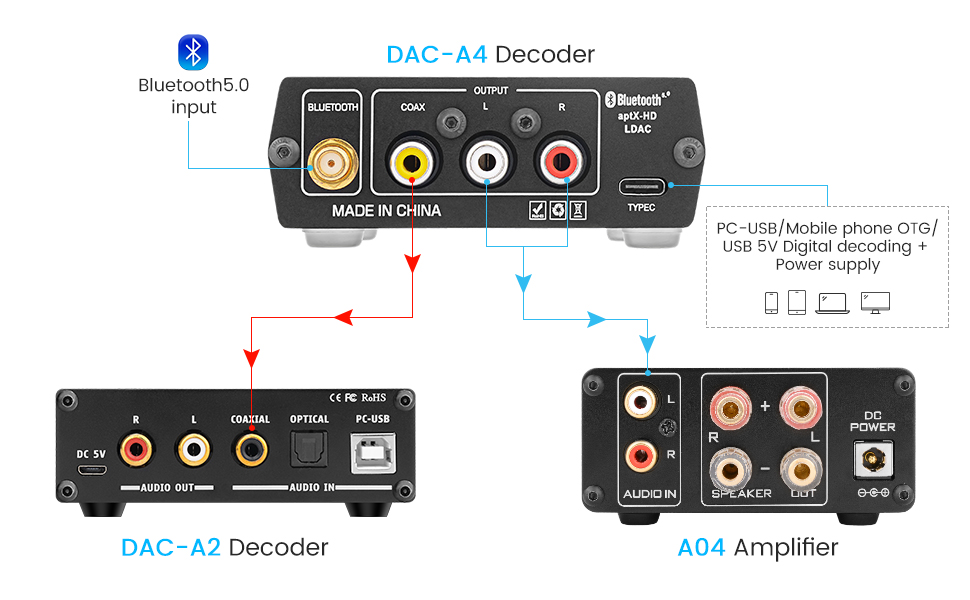 ⦁ CSR8675 Bluetooth 5.0 receiver
⦁ Supports many audio codecs including Hi-Res audio AAC / APTX / APTX-LL / APTX-HD / LDAC
⦁ USB Type-C audio input supports PC, smartphone OTG, and provides 5v power in
⦁ Uses advanced IC components: ESS9038Q2M DAC function, and JRC 5532DD low noise operational amp
⦁ Supports sampling rates up to 24bit / 96Khz
⦁ Operates as a headphone amp (10~300 ohms) and digital to analog audio converter
⦁ Independent volume control knob for headphones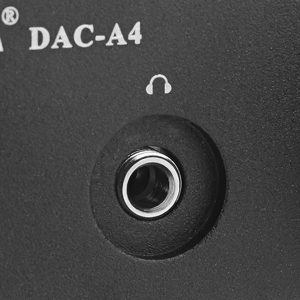 3.5mm Headphone Output
DAC IC (ESS9038QM) and high-quality electronic components to make the headphone amp decoder more resistant to interference and to restore sound quality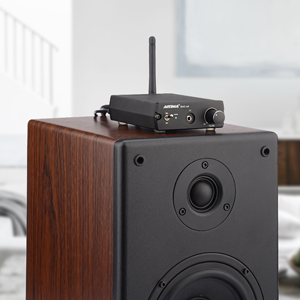 Bluetooth 5.0 AptX and LDAC Support
The digital optical to analog audio converter is compatible with all Bluetooth devices, you can connect your smartphone / iPad, digital music player or other Bluetooth audio sources and listen to your music in Hi-Res audio using LDAC and AptX. Codecs supported are SBC / AAC / APTX / APTX-LL / APTX-HD / LDAC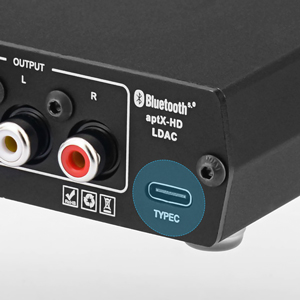 USB Type-C Audio Input Port
Connect to your PC via input as a DAC and headphone amp

It supports smart phone OTG audio input (without OTG adapter and USB-C to USB-C only) to work as a portable DAC

5v USB-C power from computer, USB AC adapter, or power bank to hear music streamed from your Bluetooth device
Package include :
1x Aiyima DAC A4 Bluetooth Headphone Amplifier (power adapter is not included)
Tech specs
| | |
| --- | --- |
| Decoding Chip | ES9038q2m |
| Bluetooth Support | CSR8675-SBC/AAC/APTX/APTX-LL/APTX-HD/LDAC |
| COAX Coaxial | 24Bit-96Khz |
| Operational Amplifier | Low Noise JRC-5532DD |
| Support Impedance | 10~300 ohms (direct push high resistance big ear without pressure) |
| USB Power Supply | Type-C-DC5V |
| Audio Input | Bluetooth / PC-USB / OTC |
| Audio Output | Coaxial digital output / RCA output / AUX |
| Dimensions | 85mm x 107mm x 33mm |
| Weight | 0.3kg |
TechX Guarantee
We understand the anxiety of shopping online in Malaysia particularly on startup and small business website; you don't get to physically hold the product before buying, how will you know if the product will live up to your expectations,... - which is why we are committed to
Only sell/advertise products or brands that we believe in

Thoroughly research a product/model to save you time and get the most value for your money

Go the extra mile to properly package items for shipping

Rely on reputable courier service (*not necessarily the cheapest)

Provide second to none customer service (Lazada/Shopee gets thousands of visitors a day, we have Only You to focus on)

Safeguarding your privacy & offer a seamless user experience on our ecommerce webpage

Ensure all pages and content on TechX are accessed using SSL encryption (*look for the padlock icon on the left side of the address bar...SSL allows sensitive information such as credit card numbers, login credentials to be transmitted securely)

Your satisfaction! We believe we sourced for the best quality products around, however sometimes life happens. If for any reason you are not 100% satisfied with the quality of any product, we will gladly refund your money + 20% of what your paid
In the event you still need further assurance, write to us via our Contact Form and we'll get back within 2 hours.