Our take
Aiyima T9 Bluetooth 5.0 100W x2 Tube Amplifier 2.0 Channel Vacuum USB DAC Stereo HiFi Home Audio Digital Amp RCA/COA/Optical/PC-USB w/VU Meter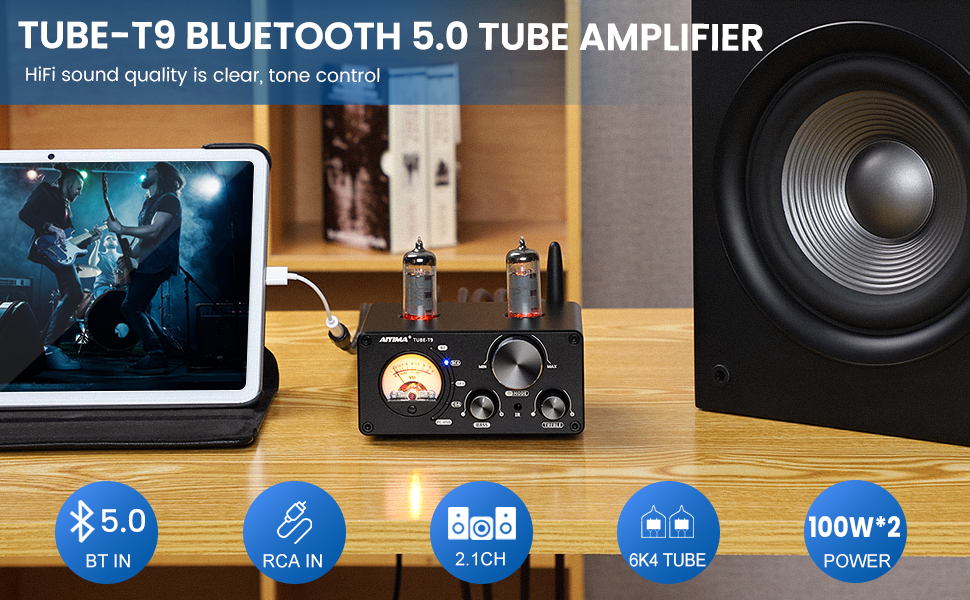 Strong Output Power & Low Frequency Output
Each channel can output 100W (4Ω), match perfectly and easily to drive all 3-8Ω passive speakers, adds a low frequency output easy to connect active subwoofer and build a 2.1 channel system, with the bass effects greatly enhanced.
With Multiple Digital Audio Inputs
Bluetooth 5.0 / USB / Coaxial / Optical / Stereo RCA, compatible with most audio device such as phones, computers, tablets, TVs, CD Players etc. The perfect combination of DAC and amplifier, very suitable for audiophiles who have various audio devices.
Unique & Amazing Combination
Integrated T9 amplifier with VU meter in such a mini size. While enjoying HiFi music, the pointer dancing in the warm light with strong vintage feeling, dynamically decorates the audio system space.
HiFi Clear Sound With Tone Control
Reasonable circuit and concise wiring, adopts vacuum tubes to soften the sound and filter out the digital feelings, sounds warm and sweet without noise. Also with treble and bass knobs to adjust one's own preferable sound styles, presents HiFi music with rousing highs and deep lows.
Practical Functions To Simplify Use
With input selection and indicators, clearly to show the working status in real time; aluminum alloy case is specially designed, cool and unique to decorate your desktop space. Comes with Remote Control.
Product details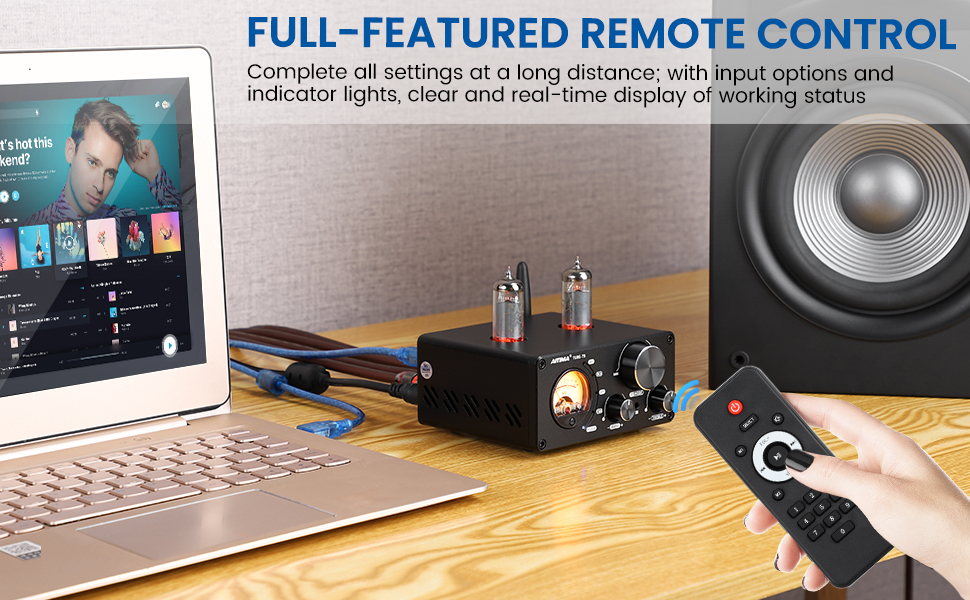 The Package Comes With A Full-Featured Remote Control
By pressing the pause/play button on the remote, you can stop or start songs without touching your phone or computer, or by skipping songs by going forward or selectively replaying. Simple, convenient and easy to use.
Note : The pause/play button and the forward or reverse buttons work only under Bluetooth input mode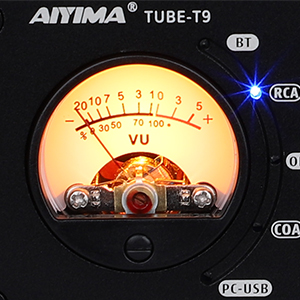 Classic VU Meter design
Retro-looking

Simplicity

Solid internal structure

Great build quality

Everything works superbly together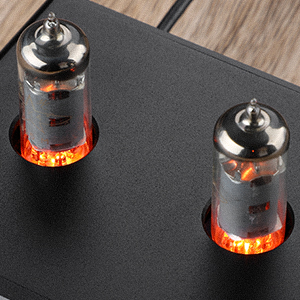 6K4 Vacuum Tubes
The 6K4 tubes have a clean and clear sound

Replaceable and upgraded tubes : 6J1, 6J2, GE5654, 6J3, 6J4, 6J5, 6Ж1п, 6AK5, etc.

Tip : Before installing the vacuum tubes into the socket on top of the unit, check to make sure that the legs of the tubes are straight, and make sure to insert all the way in, or there will be no sound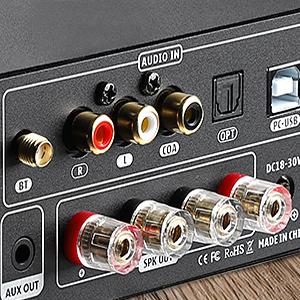 Multi-Inputs
This mini tube amplifier has multiple inputs : Bluetooth, PC-USB, RCA, Optical, Coaxial, etc.

The 3.5mm AUX Output can build a 2.1-Channel system (Powered Subwoofer / Speaker) or a multi-channel system (connect another amplifier, refer to the main picture display)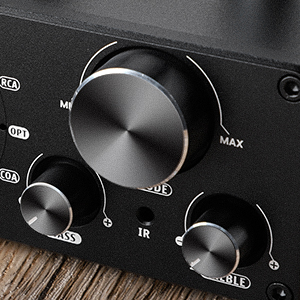 Multi - Tone Control Design
With bass, treble and volume control

Integrated design of power switch, input switch & volume knob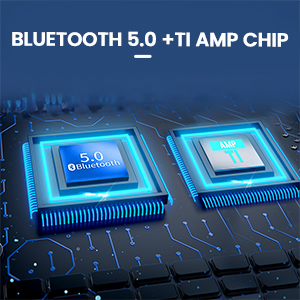 Bluetooth 5.0 Version
Bluetooth adopts version 5.0, with efficient and stable audio transmission effect

To use Bluetooth connect, please select Bluetooth mode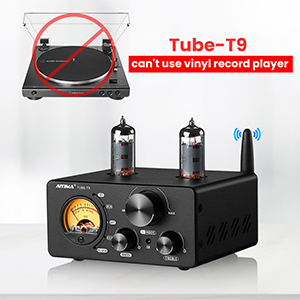 NOTE : Aiyima T9 Bluetooth Tube Amplifier can't be used to connect directly to turntables/vinyl record player.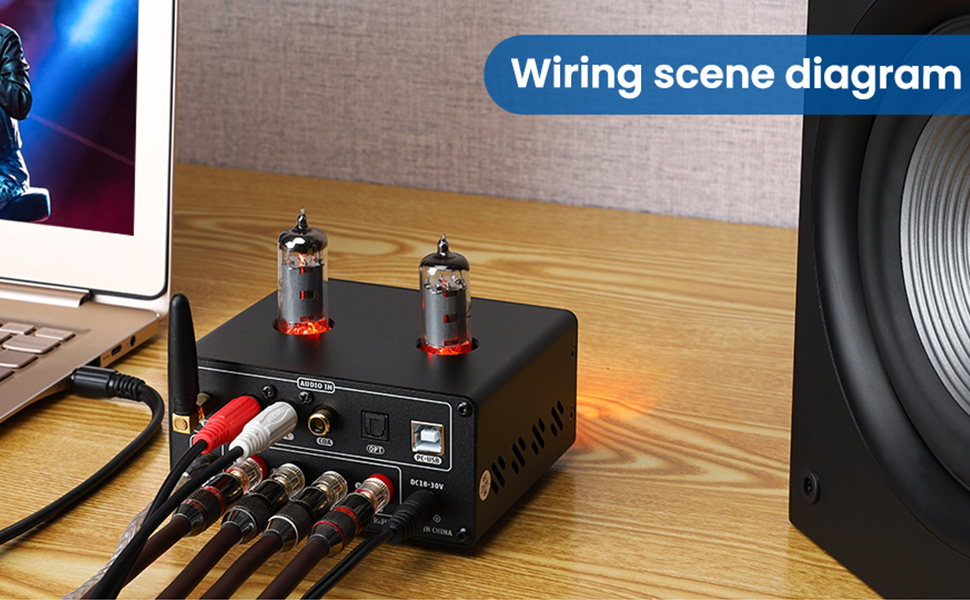 Package includes :
1x Aiyima T9 Bluetooth Tube Amplifier
2x Tubes
1x Bluetooth Antenna
1x Remote Control
1x PC-USB Cable
1x User Manual
1x DC 24V Power Adapter
Tech specs
| | |
| --- | --- |
| Chipset | 6K4+TPA3221*2+AC6926C+SA9123+MS8412+NE5532 |
| Tube Model | 6K4 |
| Replaceable Tubes | 6J1, 6J2, GE5654, 6J3, 6J4, 6J5, 6Ж1п, 6AK5, etc. |
| Support | MP3 / WMA / APE /FLAC / WAV |
| PC-USB Sampling Rate | 24bit 96khz |
| Optical Fiber / Coaxial Sampling Rate | 24bit 192khz |
| Bluetooth Sampling Rate | 24bit 48khz |
| PC-USB Support System | XP / W7 / W8 / W10 / MAC / Linux |
| Total Harmonic Distortion | 0.07% |
| Signal-To-Noise Ratio | ≥98db |
| Frequency Response | 20-20Khz (±1db) |
| Treble / Bass Adjustment Range | ±6db |
| Speaker Impedance | 3-8Ω |
| Output Power | 100Wx2 4Ω Load |
| Input Mode | Bluetooth / RCA / PC-USB / Optical / Coaxial |
| Support Equipment | Mobile Phones, Tablets, Computers, MP3, TV, etc. |
| Output Mode | Passive Speaker, Active Subwoofer |
| Working Power Supply | DC18-30V |
| Size | 115mm x 98mm x 54mm |
| Net Weight | 0.7kg |
| Gross Weight | 1.5kg |
TechX Guarantee
We understand the anxiety of shopping online in Malaysia particularly on startup and small business website; you don't get to physically hold the product before buying, how will you know if the product will live up to your expectations,... - which is why we are committed to
Only sell/advertise products or brands that we believe in

Thoroughly research a product/model to save you time and get the most value for your money

Go the extra mile to properly package items for shipping

Rely on reputable courier service (*not necessarily the cheapest)

Provide second to none customer service (Lazada/Shopee gets thousands of visitors a day, we have Only You to focus on)

Safeguarding your privacy & offer a seamless user experience on our ecommerce webpage

Ensure all pages and content on TechX are accessed using SSL encryption (*look for the padlock icon on the left side of the address bar...SSL allows sensitive information such as credit card numbers, login credentials to be transmitted securely)

Your satisfaction! We believe we sourced for the best quality products around, however sometimes life happens. If for any reason you are not 100% satisfied with the quality of any product, we will gladly refund your money + 20% of what your paid
In the event you still need further assurance, write to us via our Contact Form and we'll get back within 2 hours.