Our take
Aiyima Tube T3 HiFi Tube MM Phono Preamp for Turntable MM Phonograph Stereo Audio Tube Preamplifier with Gain Adjust for Phono Turntable Record Player.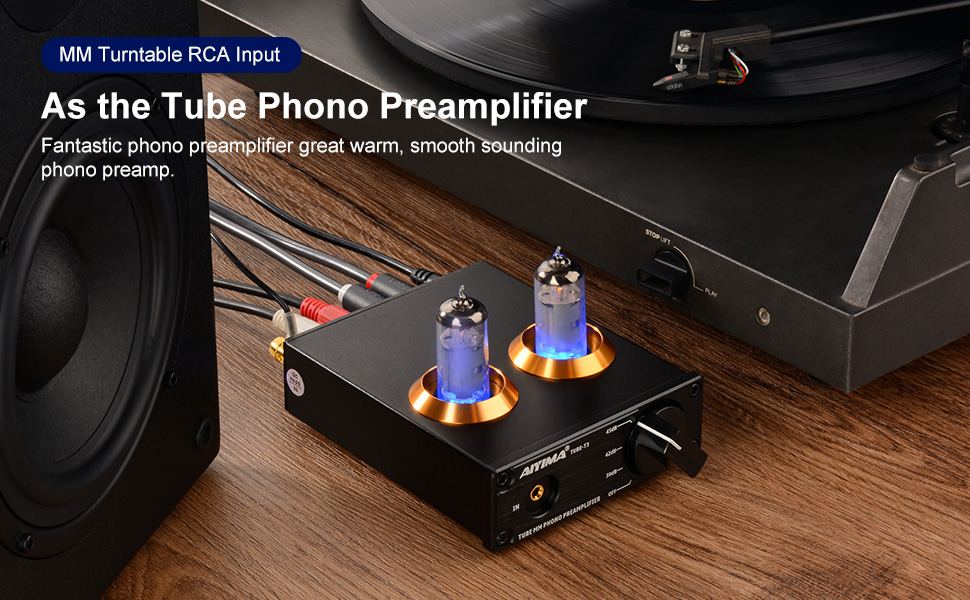 Multiple Input Methods
To meet your different needs, this Tube MM Phono Preamplifier has two input ways: MM signal input (MM Turntable) and 3.5mm AUX input.
Suitable For Multiple Scenarios
It can be used as a MM phono preamp or a tube preamp for amplifier, compatible with many audio devices such as MM record player, CD players, DAC, phone, TV, MP3 players, computers and so on.
Package Comes With A Pair Of 6A2 Tubes
Easy tube replacements (can be replaced with 6J1,6J2.6K4.GE5654.6AK5.6Ж1п.) Sounds warm, dynamic and sweet, bringing extremely high-quality listening experience.
With DC12V Power Supply
With gain adjustment switch, convenient to match better with different audio signals, lossless transmission, perfectly suitable for MM record players and other audio sources.
Excellent Appearance And Strong Structure
The mini MM tube Preamplifier build quality is surprisingly solid, metal shell, exquisite appearance design, nice touch! Reasonable internal structure ensures HiFi sound quality and low noise, lets you enjoy sweet and warm sound quality.
Product details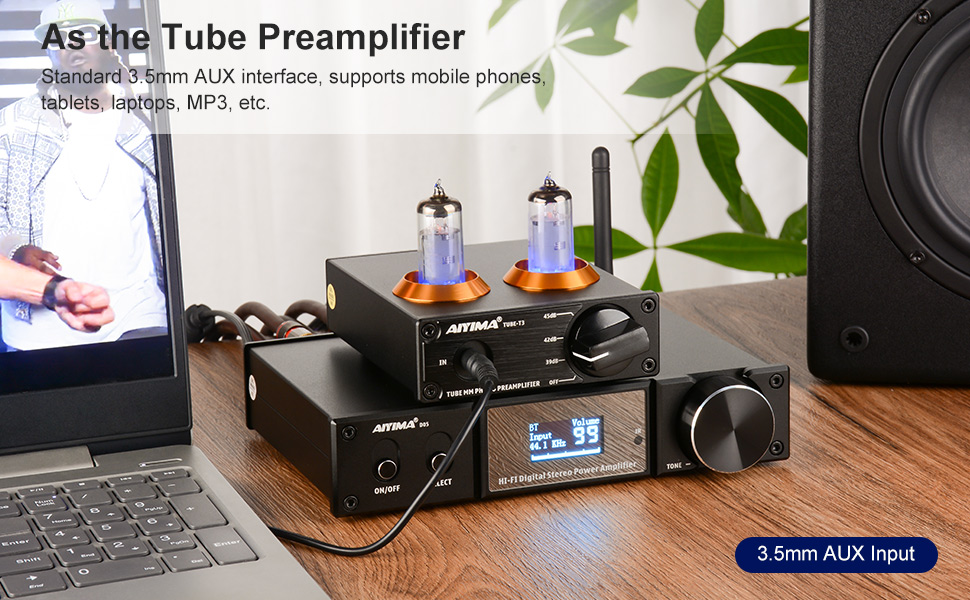 The Aiyima Tube T3 is a 2-in-1 tube preamplifier for your home stereo.
You can connect your phono/turntable to it using the MM RCA plug that has a ground wire.
OR you can connect your music player like your smartphone, your MP3 player, CD player or other other audio component using the 3.5mm plug AUX input.
Then connect the preamp to your Aiyima (or other brand) amplifier that is connected to your speakers.
This is great for a newer receiver that does not have Phono plugs since it is RIAA compliant.
Or it can work with an older stereo receiver and will provide that warm tube sound. (You cannot connect a turntable to a receiver without PHONO in because the signal from the turntable is low and needs a preamp like our Tube T3).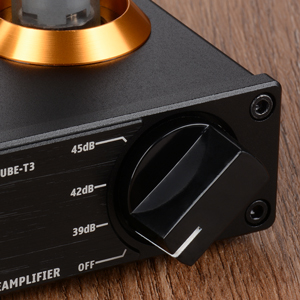 With Gain Adjustment Design
The Tube T3 allows you to fine tune the sound of your music because it has three GAIN settings. LOW (39dB), MED (42dB) and HI (45dB). You have more control over your music because the MED and HI settings are like the GAIN BOOST function commonly found in portable DAC devices. It does not amplify the sound but adds a warm rich sound to your music. The Tube T3 works using a 12V adapter, included in the package.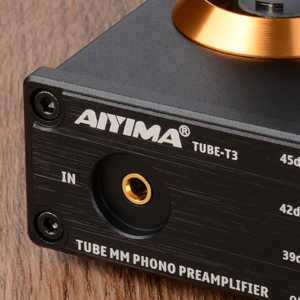 3.5mm AUX Audio Input
MM signal input and 3.5mm AUX Audio input selectable (AUX input priority)
Tube T3 comes stock with two high quality 6A2 vacuum tubes. Each tube is inspected and tested before shipment. You can swap out the tubes to change the tonal quality of your music using the popular and commonly available GE5654W tube. Or you can use one of these 6J1,6J2.6K4.GE5654.6AK5.6Ж1п. In total there are over a dozen vintage tubes you can use in the T3 to customize your music, whether records or audio from your music player.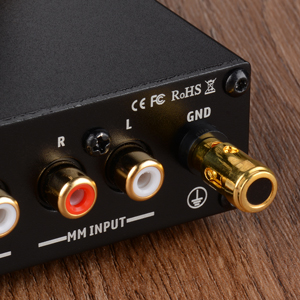 As A MM Turntable Preamp
Perfectly suitable for MM record players and Turntable.
With low-noise integrated circuits and high-quality components, and a powerful internal structure, it can convert phono signals into line-level signals to eliminate low-frequency noise and ensure clear sound quality. Designed with grounding posts to protect your turntable.
Improve your listening experience with Aiyima. Aiyima makes high quality audio equipment using the best quality IC audio components.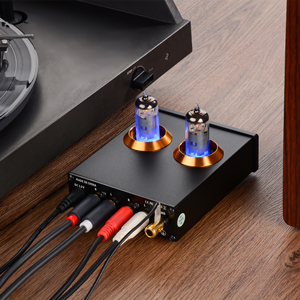 Application :
It can be used as a MM phono preamp and a tube preamp; (When the preamp input is input, the phono input will automatically switch to the preamp input, 3.5mm AUX Audio input priority).
Compatible with many audio devices such as MM record player, CD players, DVD, DAC, phone, TV, MP3 players, PC, Tablet, Laptop, computers and so on.
Audio output can connect with amplifier, active speaker, etc., red to the right channel, white left channel).
"MM input" only can connect to Phono, it cannot connect analog signal input, such as Phone, PC.
Tech specs
Type

2.0 Channel Tube Pre-amp

Bluetooth

No

Input

AUX, MM Phono

Bass & Treble Control

No

Output

Active Speaker, Amplifier

Voltage

DC12V 2A

Features

- 6J2 Tubes
- MM Phono input
- JRC2068D Dual op amp chip
- Tube replaceable : (6J1,6J2.6K4.GE5654.6AK5.6Ж1п.)

Power Supply

110V-240V

Output Level

600mV @3mV 1KHz

Signal To Noise Ratio

≥98dB

Frequency Response

RIAA Compliant

Distortion

0.1%

Dimensions (without protruding knobs & terminals)

118.5mm x 98mm x 33mm

Item Weight

0.6kg

TechX Guarantee
We understand the anxiety of shopping online in Malaysia particularly on startup and small business website; you don't get to physically hold the product before buying, how will you know if the product will live up to your expectations,... - which is why we are committed to
Only sell/advertise products or brands that we believe in

Thoroughly research a product/model to save you time and get the most value for your money

Go the extra mile to properly package items for shipping

Rely on reputable courier service (*not necessarily the cheapest)

Provide second to none customer service (Lazada/Shopee gets thousands of visitors a day, we have Only You to focus on)

Safeguarding your privacy & offer a seamless user experience on our ecommerce webpage

Ensure all pages and content on TechX are accessed using SSL encryption (*look for the padlock icon on the left side of the address bar...SSL allows sensitive information such as credit card numbers, login credentials to be transmitted securely)

Your satisfaction! We believe we sourced for the best quality products around, however sometimes life happens. If for any reason you are not 100% satisfied with the quality of any product, we will gladly refund your money + 20% of what your paid
In the event you still need further assurance, write to us via our Contact Form and we'll get back within 2 hours.