Our Take

The Oberon 1 is an excellent choice if you're looking for a high quality small speaker with an unfussy nature.
+ Bold and articulate sound
+ Excellent with voices
+ Fine build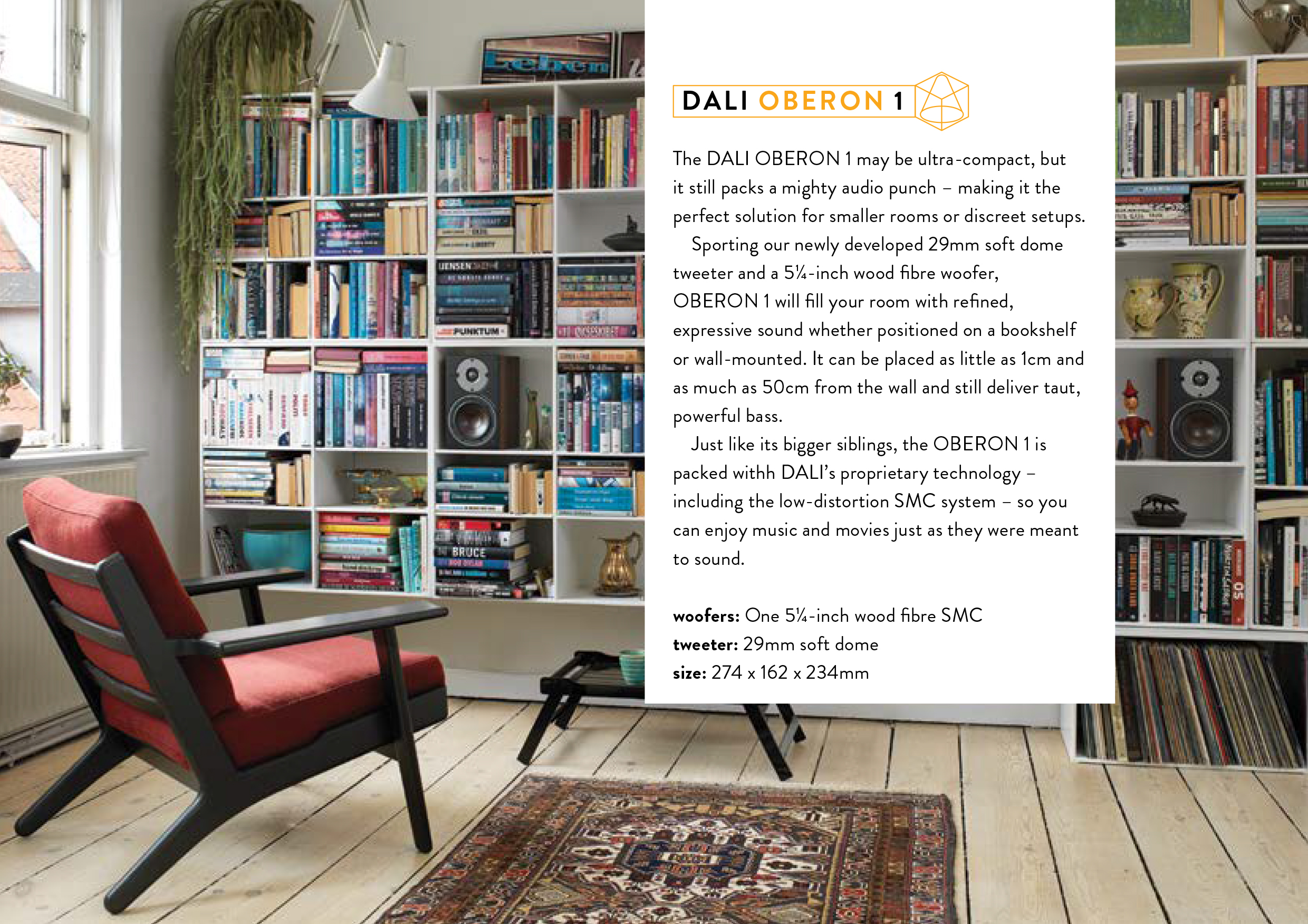 With hindsight, we shouldn't have been surprised by the quality of Dali's Oberon 1. Dali has a generally brilliant track record with affordable standmounters.
Yet, we still weren't quite prepared for the sound we heard out of these little boxes.
About the size of a shoebox, the Oberon 1 keeps strictly to convention as far as design is concerned. They are a two way, rear ported design, just like all of the established competition. But look closely and you'll find areas where Dali's engineers have tried to eke out an advantage.
The tweeter uses a 29mm soft dome, which is claimed to be considerably lighter than that used on most rivals. The larger-than-normal size (most tweeter domes tend to be 25mm wide) means that it can delve lower in frequency than alternative designs, aiding integration with the mid/bass and generating higher outputs with less excursion.
Much care has been taken with the motor system and managing the sound that comes off the back of the dome so that it doesn't distort the forward output.
Moving down in frequency, the 13cm mid/bass unit uses one of the company's trademark wood/fibre cones. Dali has long preferred this material for its low weight, rigidity and fine self-damping properties. The mid/bass and tweeter are integrated with a single-wire crossover. The lack of biwiring isn't an issue for us. It keeps things simpler, and lets the user concentrate their budget on a single high-quality speaker cable, rather than spreading the cost between two runs.
The Oberon's MDF cabinet is solid and nicely made. There are four finish options – black ash, white, dark walnut and the light oak. At 27cm tall these speakers are compact enough to fit unobtrusively into most rooms.
Dali has tried to keep this speaker as versatile as possible, even including a rear panel fixing to make wall mounting easier. While these speakers sound notably more balanced than most rivals when used right up against a wall, if possible, we suggest pulling them around 30cm into the room to make the most of their excellent stereo imaging and midrange clarity.
Speakers this small are never going to produce loads of bass. That accepted, the laws of physics being what they are, we're left with a wonderfully articulate performer that marries a bold, forthright nature with the kind of refinement and insight that's rare at this level.
The Dali Oberon 1 is stunning with vocal-based material. These speakers deliver voices in such a solid and expressive way. You'd need to spend closer to four figures to get any better in this respect. There are rivals that dig up as much information, but few deliver it with such a sense of passion and enthusiasm.
Tonally, these are nicely judged with a smooth treble that still has plenty of bite and a full-bodied presentation that sounds impressively confident and composed. That controlled attitude remains unchanged, even at higher volume levels where most rivals would start to harden up.
We're impressed by the way these speakers convey the wide-ranging dynamics. They manage to render an expansive and sharply focused soundstage that stays stable regardless of the recording's complexity.
Larger rivals will have more scale and sonic authority, but they won't be anywhere near as accommodating as these Dalis when it comes to placement or blending into a room. It's the Oberons' ability to reveal so much information, but also arrange it in a musically cohesive way that really makes them shine.
VERDICT
On the surface these may look like a posh pair of Dali Spektor 2, and there are certainly some strong visual similarities. But start listening to the Oberon 1 at the end of a suitably talented system and you'll find they're capable of sonic feats the junior speakers only hint at. But aside from the limitations of size, they produce a quality of sound only the very best at this level can get close to.
If you're looking for a small, unfussy pair of speakers we can't think of anything more capable at this kind of price than these Dalis. They really are a joy.
SCORES
Sound - 5
Compatibility - 5
Build - 5
Product Details

The DALI OBERON 1 is an ultra-compact bookshelf speaker for smaller rooms, discreet audio setups or wall mounting. The cabinet size balances inner volume for bass performance and a compact appearance for easy integration.
Easy to Position
The wide dispersion pattern of the drivers ensures well-integrated sound that drastically reduces off-axis harmonic distortion.
Wood Fibre Cones
The stiff, lightweight structure of the reinforced wood fibre cone reproduces details that are uncoloured and highly accurate.
Contemporary Design
The rounded edges and grille fabric add a lighter and more contemporary look, enhanced by the elegantly shaped aluminium base on the floorstanding models.
Patented SMC
The woofer magnet's iron pole-piece includes a patented SMC disc that greatly reduces mechanical distortion for a relaxed midrange and lots of detail.
EASY INTEGRATION
Well-integrated sound, even off axis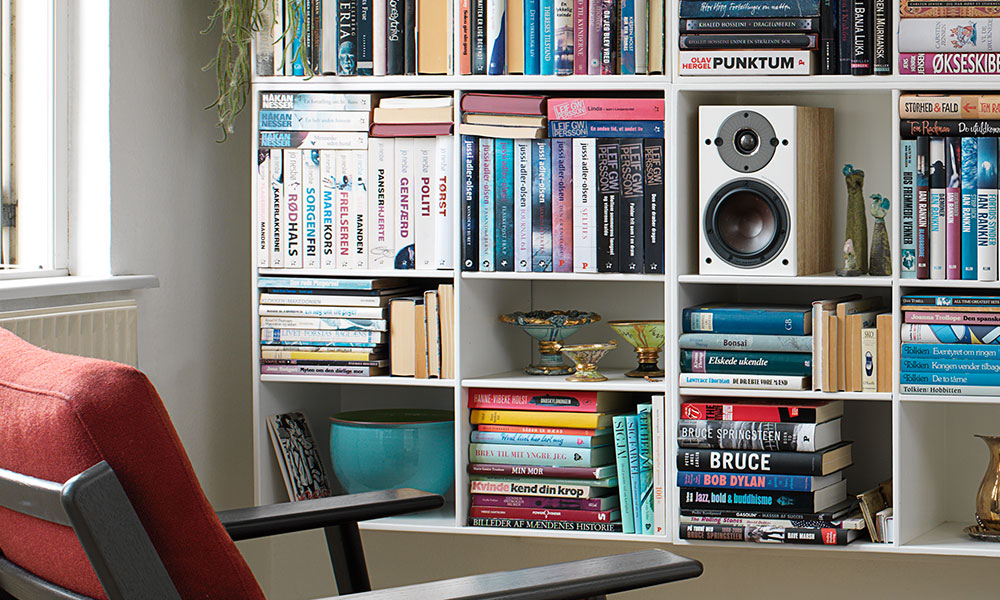 The compactness of the OBERON 1 makes it easy to integrate into any room. The driver materials and geometry used are purpose-designed to achieve a wide dispersion pattern. By dispersing the sound around a room more widely, what you hear has more coherent balance, consistency and quality – even off-axis. Wide dispersion also gives you more flexibility when it comes to positioning the OBERON 1.
WOOD FIBRE CONE
Revealing the minutest details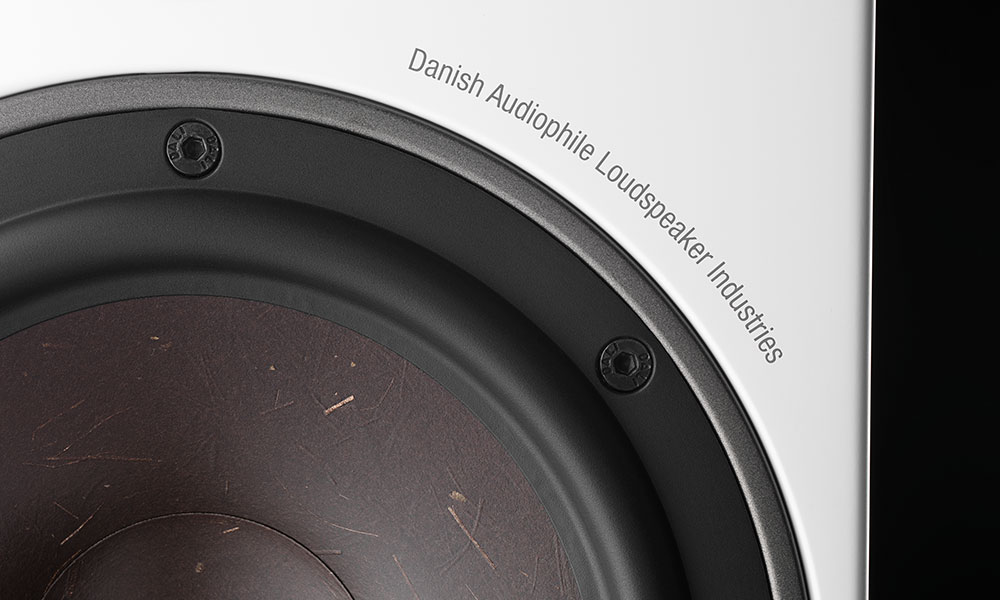 The 5.25" low loss woofer used in the OBERON 1 has been optimised with a new wood fibre structured cone dedicated to reproducing the delicate midrange and bass frequency area. Constructed from a blend of fine-grain paper pulp reinforced with wood fibres, it creates a stiff, yet lightweight structure. And when combined with the low loss surround and spider suspension, the OBERON 1 woofer reproduces the minutest details, unfiltered and with high accuracy.
REDUCING DISTORTION
DALI's patented SMC (Soft Magnetic Compound)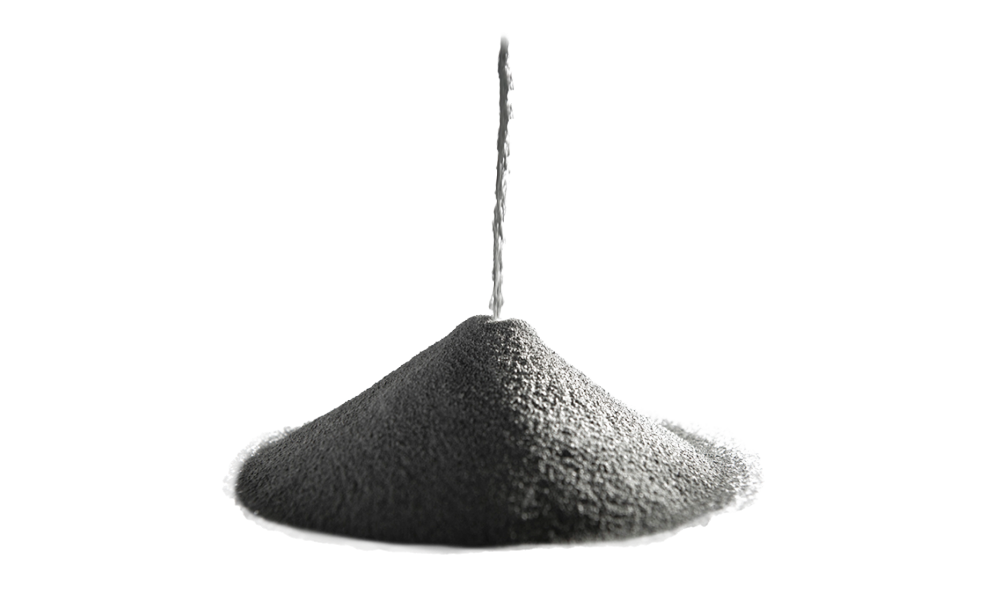 The use of SMC (Soft Magnetic Compound) in the OBERON 1 greatly reduces mechanical distortion caused by hysteresis and eddy currents. The result is a magnet motor system with a drastic reduction in third-order distortion, which allows the OBERON 1 to deliver extended listening pleasure, a relaxed midrange and a surprising amount of detailing in its class.
DALI's patented Soft Magnetic Compound (SMC) is used in the pole piece of the woofer magnet motor system, which all the latest DALI loudspeakers benefit from. The result is an extremely agile, well-behaving, ultra low-loss woofer with a significant reduction of distortion from mechanical loss.
The purpose of SMC is to reduce sound coloration to a level where the music comes alive inside your living room - as if the artist was present. The ultimate goal is to make the sound reproduction so free of distortion that you are not able to tell the difference between a live or recorded performance.

The iron pole piece of the woofer magnet is crowned by an SMC disk - minimizing the negative effects of the iron.
OVERSIZED SOFT DOME
Combining well-proven technologies with new features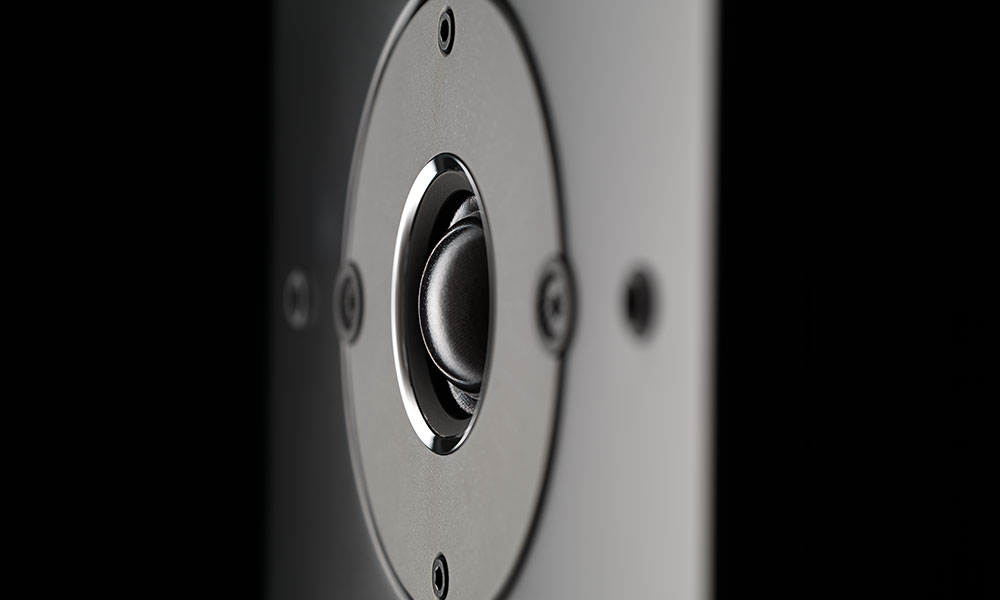 The oversized 29mm ultra-lightweight soft dome tweeter was specifically developed for the OBERON series, combining well-proven technologies from the existing DALI ranges with new features. The large membrane size generates higher sound pressure with less excursion, keeping the voice-coil motion to a controlled minimum. The tweeter front plate near the dome has been designed with similar geometry to the OPTICON and RUBICON tweeters to create the best possible working conditions for the soft dome. The result is extended frequency response, wide dispersion and low colouration.
OPTIMISED CABINET
Cabinet design isn't just about good looks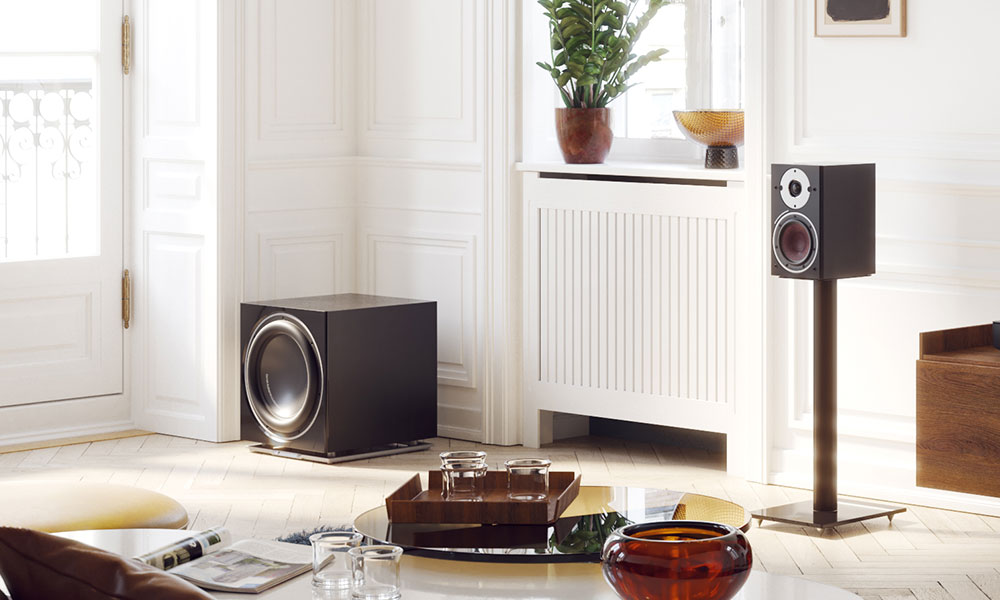 The OBERON 1 cabinet is constructed from a high density, CNC machined MDF board dressed in high-grade vinyl. The extremely rigid structure is achieved with solid bracings across the inside of the cabinet, which practically eliminates cabinet resonance. The bass ports at the rear of the cabinet optimise room integration by using a rear wall surface to improve bass performance. There's also a keyhole bracket at the back for on-wall mounting.
Tech Specs
| | |
| --- | --- |
| Frequency Range [+/- 3] dB | 51 - 26,000 Hz |
| Sensitivity [2.83V/1m] | 86 dB |
| Nominal Impedance | 6 Ohms |
| Maximum SPL | 106 dB |
| Recommended Amp. Power | 25- 100 Watts |
| Crossover Frequencies | 2,800 Hz |
| Crossover Principle | 2-Way |
| High Frequency Driver | 1 x 29 mm Soft Dome |
| Low Frequency/Midrange Driver(s) | 1 x 5.25" |
| Enclosure Type | Bass Reflex |
| Bass Reflex Tunning Frequency | 50 Hz |
| Connection Input(s) | Single |
| Recommended Placement | Stand / Shelf |
| Recommended Distance from Rear Wall to Speaker's Rear Panel | 1-50 cm |
| Dimensions | (H) 274 mm x (W) 162 mm x (D) 234 mm |
| Weight | 4.2 kg |
| Accessories | Rubber Feet, Manual |
TechX Guarantee
We understand the anxiety of shopping online in Malaysia particularly on startup and small business website; you don't get to physically hold the product before buying, how will you know if the product will live up to your expectations,... - which is why we are committed to
Only sell/advertise products or brands that we believe in

Thoroughly research a product/model to save you time and get the most value for your money

Go the extra mile to properly package items for shipping

Rely on reputable courier service (*not necessarily the cheapest)

Provide second to none customer service (Lazada/Shopee gets thousands of visitors a day, we have Only You to focus on)

Safeguarding your privacy & offer a seamless user experience on our ecommerce webpage

Ensure all pages and content on TechX are accessed using SSL encryption (*look for the padlock icon on the left side of the address bar...SSL allows sensitive information such as credit card numbers, login credentials to be transmitted securely)

Your satisfaction! We believe we sourced for the best quality products around, however sometimes life happens. If for any reason you are not 100% satisfied with the quality of any product, we will gladly refund your money + 20% of what your paid
In the event you still need further assurance, write to us via our Contact Form and we'll get back within 2 hours.