Our Take
These Dalis offer a degree of entertainment their rivals struggle to match.


The Spektor 2 is an excellent speaker, combining Dali's traditional strengths with a generous dose of entertainment.

+ Agile, articulate and expressive
+ Good detail
+ Compact and unfussy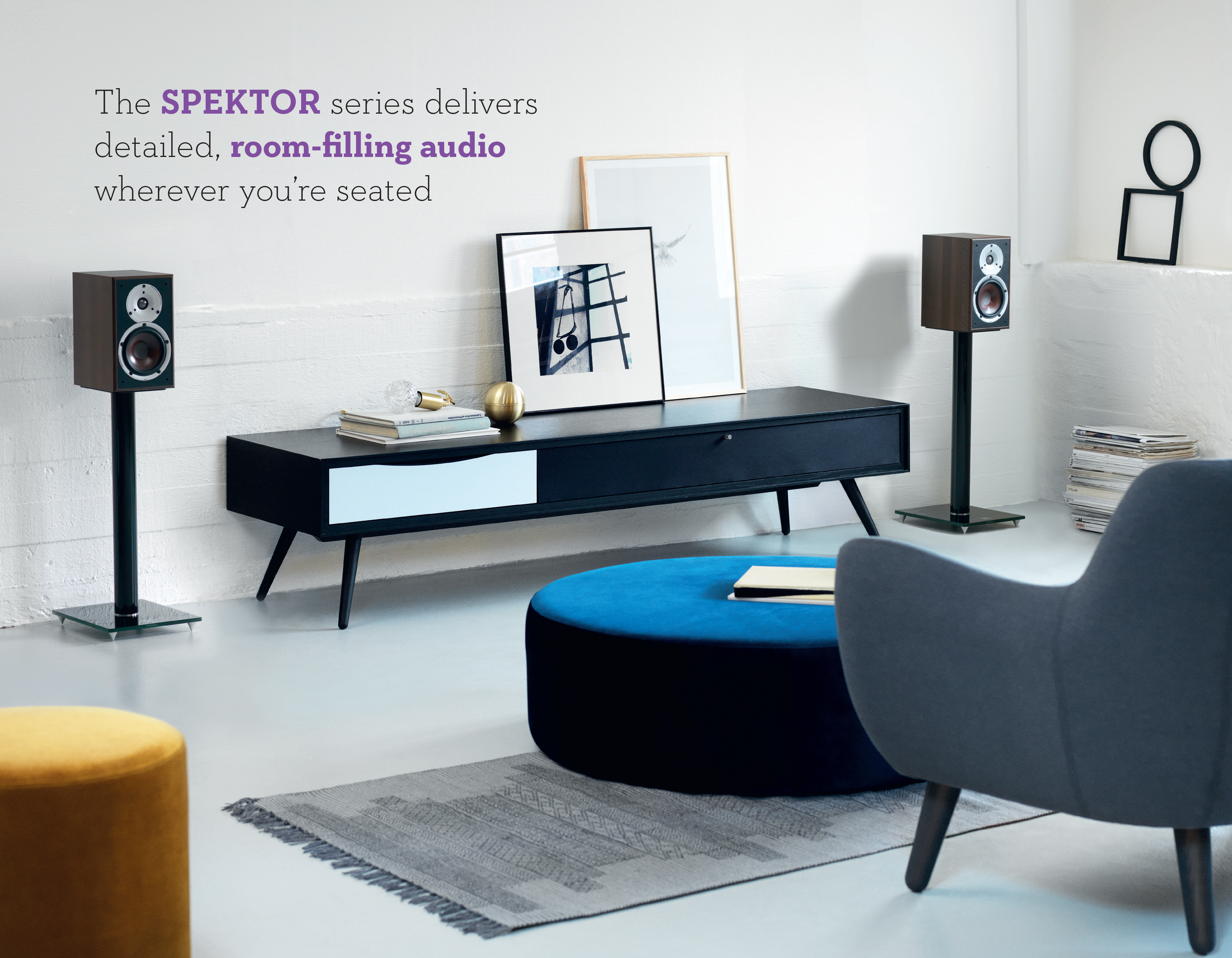 On paper, there's little to differentiate Dali's new Spektor 2 from any of their main rivals. These speakers stick to the classic budget standmounter formula like Superglue sticks to fingers.
There's everything we would expect from a typical box here, from two-way driver configuration and ported bass tuning right the way through to the 25mm dome tweeter and 13cm mid/bass driver.
But as with any dish, culinary or (in this case) acoustic, the list of ingredients only tells you so much - and those familiar with Dali will know it has something of a talent for budget boxes.
So it proves with the Spektor 2.
Take them out of the packaging and the first impression is good. They're nicely made, without quite giving off the quality feel of a pair. Still, the panels line up well and general fit and attention to detail is good.
There are three options for the finish: walnut, black ash or white. All look smart. The Spektor 2s are pretty compact at just 29cm high and shouldn't dominate a room, even if mounted (as they really should be) on some sturdy stands.
Let them run in over a couple of days and supply them with a good system and these speakers sparkle.
Their rated sensitivity is a little on the low side - just over 84dB/W/m - and nominal impedance is 6ohms, so it wouldn't hurt to partner them with an amplifier packing a decent amount of poke.
Mounted on solid stands, these speakers display a breadth of talent few similarly priced alternatives can match.
We like the cohesive way these speakers handle the instrumental backdrop too - they deliver the music with considerable finesse, precision and energy.
The Spektors are capable of high volume levels and a decent degree of composure when pushed.
There's a pleasing level of resolution here, along with the ability to organise that information into an involving and musical whole.
The way these speakers handle dynamics is impressive. They're fluid and expressive, handling both large-scale swings and low-level subtleties with equal skill.
The result is these Dalis have the ability to draw the listener into the music in a way that eludes even the best of their price-comparable rivals.
We position the Dalis just a little out from the rear wall and fire them straight ahead, just as the company recommends.
This results in an expansive and stable soundstage.
Tonally, the Spektor 2 has a full-bodied yet balanced presentation. There isn't much sign of the over-enthusiastic treble we've been subjected to in some previous generations of budget Dalis.
This means the Spektor 2 is easy to partner, and less fussy about poor or aggressive recordings.
These boxes respond superbly. They deliver hard-charging rhythm with glee, lacking little in the way of drive, punch or power.
This is a dense production, but these speakers have enough by way of insight and control to keep everything in check.
VERDICT
If you're looking for a top-class pair of budget standmounters, your choice just got bigger.
There are other strong options, but these Dalis offer a degree of entertainment even those talented performers struggle to match. They're highly recommended.

Product Details
The larger inner volume of the DALI SPEKTOR 2 delivers the room-filling bass performance of a floorstander in a compact speaker form. The SPEKTOR 2 also performs great in any part of a surround sound setup.

Wood Fibre Cones
The low-loss drivers combine low-mass paper cones with wood fibre for an uneven surface that eliminates resonance and reveals every detail.
Soft Dome Tweeter
The ultra lightweight, weaved fabric dome tweeter offers best-in-class resolution with extended frequency response, wide dispersion and low colouration.
Amplifier Friendly
The amplifier-friendly design makes it a perfect fit for almost any stereo amplifier or surround receiver in its price category.
Low Signal Loss
The custom DALI drivers eliminate the need for crossover frequency correction for close-to-zero signal loss.
COMPACT SPEAKER
Bass beyond it's size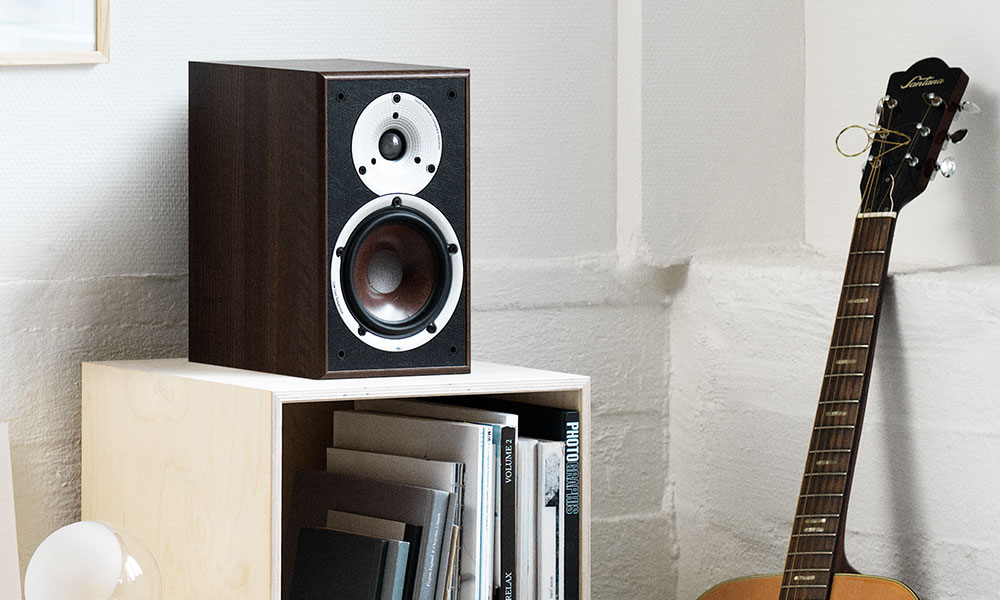 The DALI SPEKTOR 2 might be a compact speaker but the larger inner volume than its smaller sibling, the SPEKTOR 1, delivers an extra level of bass performance. The SPEKTOR 2 is ideal for mounting on a shelf, wall or stand and combines well with any compact Hi-Fi music system. It also functions as a surround speaker in a home cinema setup for added movie-watching immersion. Like all DALI loudspeakers, the SPEKTOR 2 has been designed in accordance with their fundamental acoustic and electro-acoustic principles, and a strong belief that clarity and an authentic, honest sound reproduction will get you even closer to the full impact of a live music experience.
WIDE DISPERSION
Easy integration in any room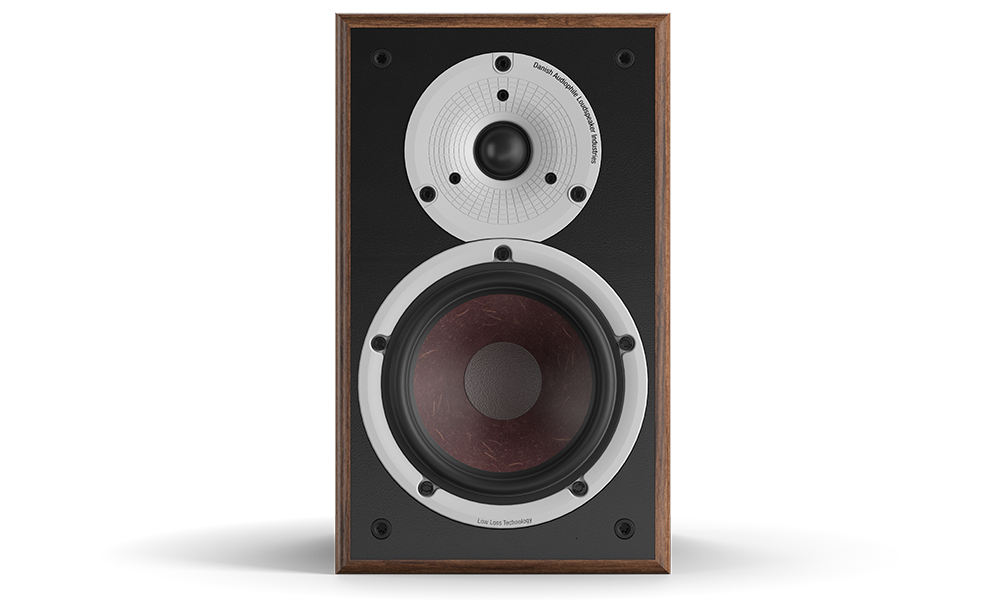 It is easy to integrate the SPEKTOR 2 into any room. The driver materials and geometry used are purpose-designed to achieve a wide dispersion pattern. By dispersing the sound around a room more widely, what you hear has more coherent balance, consistency and quality – even off-axis. Wide dispersion also gives you more flexibility when it comes to positioning the SPEKTOR 2.
TWEETER
Rendering high frequencies with accuracy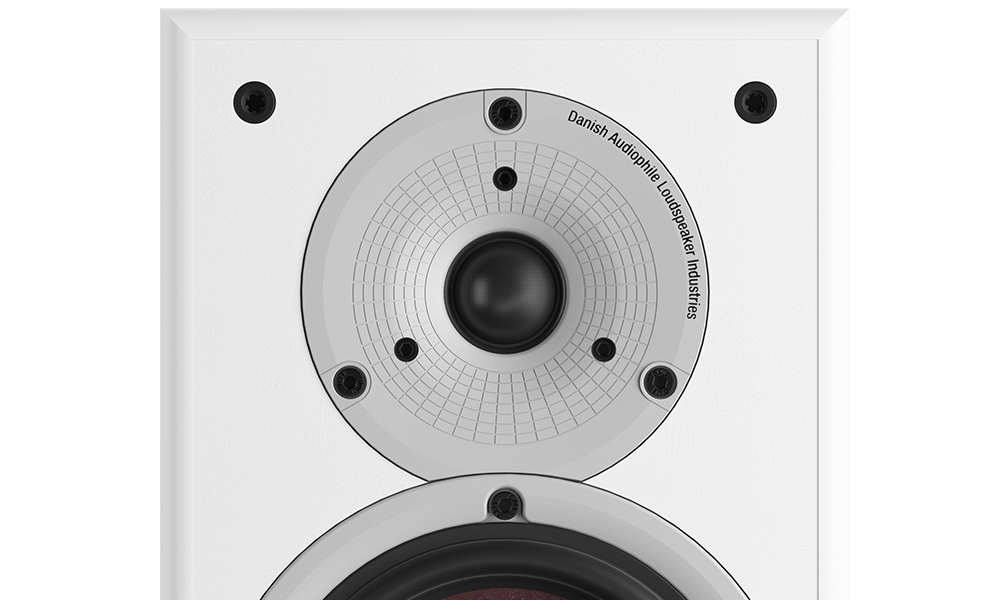 Made from ultra-lightweight woven fabric, the SPEKTOR 2 dome tweeter renders high frequencies with exceptional accuracy. Compared with most other soft dome tweeters, their dome material is less than half the weight (0.056 mg per mm2). The tweeter's impressive ability to reproduce even the lowest parts of the high frequency range without any breakup means that every detail in the midrange frequencies is retained, even during the critical handover between the tweeter and woofer.
WOOFER
Optimised for integration, dispersion and performance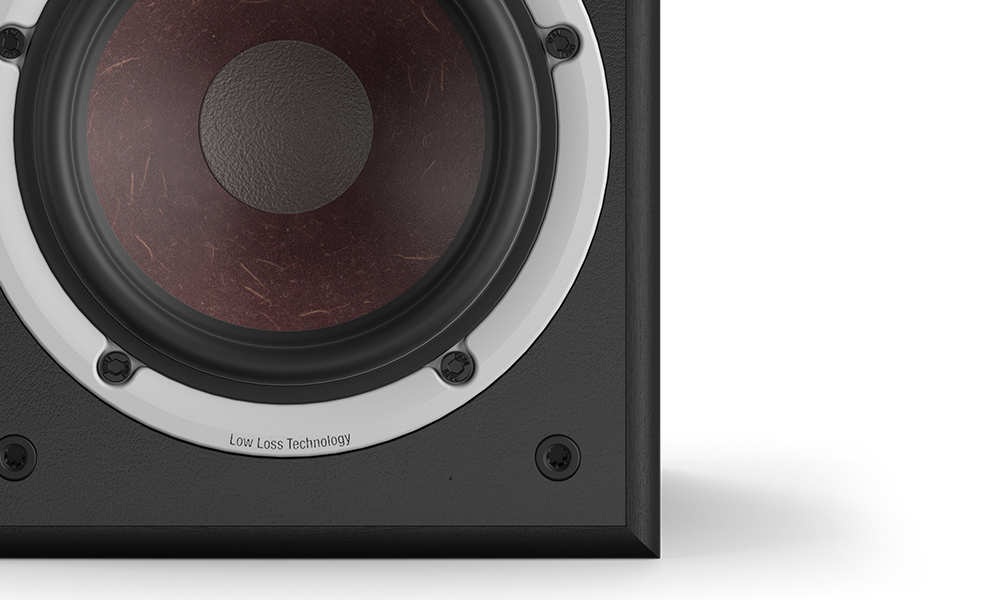 The SPEKTOR 2 has a 5.25" woofer for increased overall sound pressure levels, which helps it shine in larger rooms that still require a compact speaker. Details such as the angle of their signature DALI wood fibre cone and the size of the dust cap have been optimised for the best possible integration, dispersion and performance. The cone membrane – a mix of fine-grain paper and wood fibre pulp – also makes the woofer extremely rigid and lightweight, while the uneven structure helps minimise unwanted surface resonances.
LOW LOSS
Smooth, seamless audio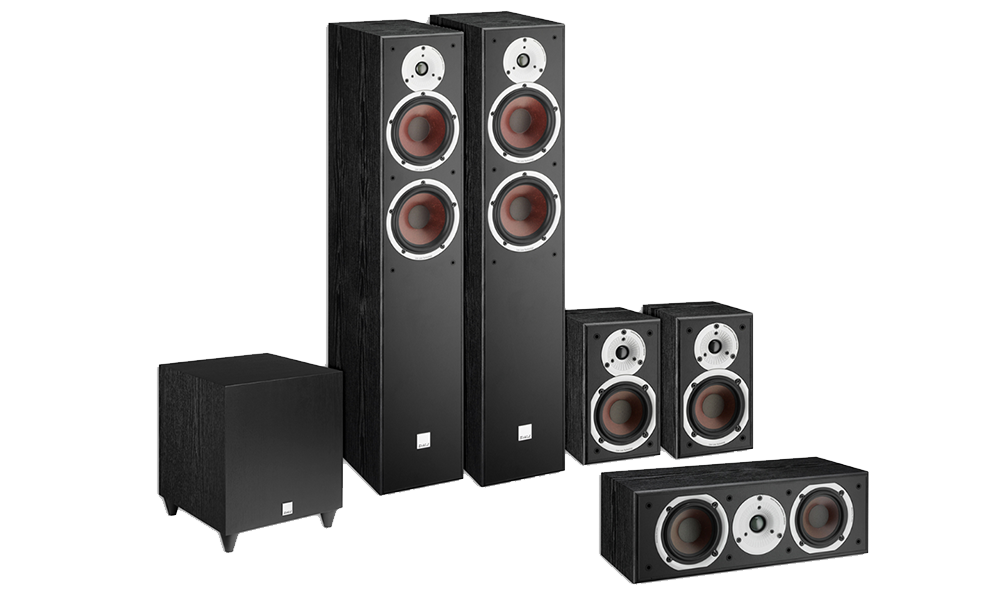 The function of any loudspeaker is to convert the electrical signal from an amplifier into a realistic audio experience for the listener, while minimising losses in the signal. The clarity of sound you'll experience from the SPEKTOR series is the result of their commitment to producing low-loss speakers with smooth and seamless sound reproduction in both the time and frequency domain. By using only DALI designed, custom built drivers and crossovers made from quality components, DALI SPEKTOR speakers achieve a signal loss close to zero.
Tech Specs
| | |
| --- | --- |
| Frequency Range [+/- 3] dB | 54 - 26,000 Hz |
| Sensitivity [2.83V/1m] | 84.5 dB |
| Nominal Impedance | 6 Ohms |
| Maximum SPL | 105 dB |
| Recommended Amp. Power | 25 - 100 Watts |
| Crossover Frequencies | 2,600 Hz |
| Crossover Principle | 2-Way |
| High Frequency Driver | 1 x 25 mm Soft Dome |
| Low Frequency/Midrange Driver(s) | 1 x 5.25" |
| Enclosure Type | Bass Reflex |
| Bass Reflex Tunning Frequency | 51.5 Hz |
| Connection Input(s) | Single |
| Recommended Placement | Stand / Shelf / Wall |
| Recommended Distance from Rear Wall to Speaker's Rear Panel | 1-80 cm |
| Dimensions | (H) 292 mm x (W) 170 mm x (D) 238 mm |
| Weight | 4.2 kg |
| Accessories | Rubber Feet, Manual, Wall Bracket |
TechX Guarantee
We understand the anxiety of shopping online in Malaysia particularly on startup and small business website; you don't get to physically hold the product before buying, how will you know if the product will live up to your expectations,... - which is why we are committed to
Only sell/advertise products or brands that we believe in

Thoroughly research a product/model to save you time and get the most value for your money

Go the extra mile to properly package items for shipping

Rely on reputable courier service (*not necessarily the cheapest)

Provide second to none customer service (Lazada/Shopee gets thousands of visitors a day, we have Only You to focus on)

Safeguarding your privacy & offer a seamless user experience on our ecommerce webpage

Ensure all pages and content on TechX are accessed using SSL encryption (*look for the padlock icon on the left side of the address bar...SSL allows sensitive information such as credit card numbers, login credentials to be transmitted securely)

Your satisfaction! We believe we sourced for the best quality products around, however sometimes life happens. If for any reason you are not 100% satisfied with the quality of any product, we will gladly refund your money + 20% of what your paid
In the event you still need further assurance, write to us via our Contact Form and we'll get back within 2 hours.