Our take
The Audio Pro C5 MkII is a solid upgrade to what was already a very good speaker, providing a soundstage that can go as big or as small as you like. Crucially, it's now easier than ever to connect to, as well.
While the sound quality is full and excellent, though, this is a speaker that's far from cheap. For the same price, you could pick up a couple of excellent speakers from Amazon's Echo line, to name just one brand.
Product details
Get Your Music Wirelessly Quickly And Easily
No more worries about getting music whenever you want it – follow our 3-step connection guide to get the music going for any occasion. You'll hear your music 24/7 with wifi uninterruptedly. Audio Pro C10 Wireless speakers enable you to stream your whole world of music.
Step 1 – Plug in the power cable

Step 2 – Connect it to your Wi-Fi

Step 3 – Control everything through the Audio Pro App
Liberate Your Music To Every Room
You can have a wireless speaker in every room and play to one – or all of them – at the same time. Everyone can play their own choice of music on whichever wireless speaker or Bluetooth speaker they want. Play from internet streaming services, from a computer or NAS in your network, or music from your phone with Wi-Fi and a Bluetooth speaker.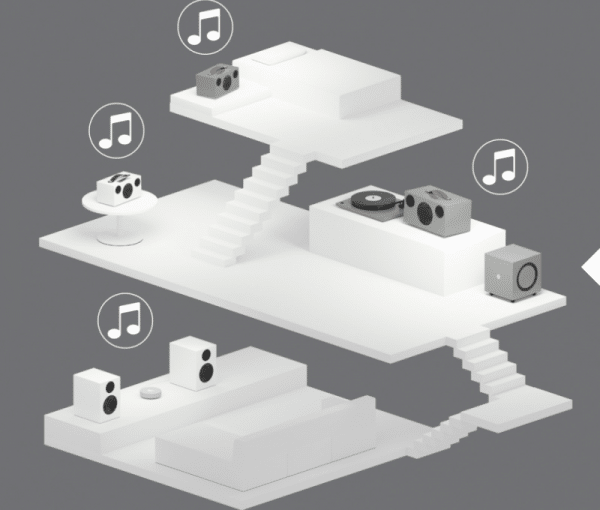 The C5 MkII follows the iconic styling of its predecessor, with an open front and leather handle.
With the addition of AirPlay 2 and Chromecast, Apple and Android users can sync with their home wireless system more efficiently, providing more options to stream music through the speaker. Furthermore, we added extra preset buttons, a popular preferance amongst our users.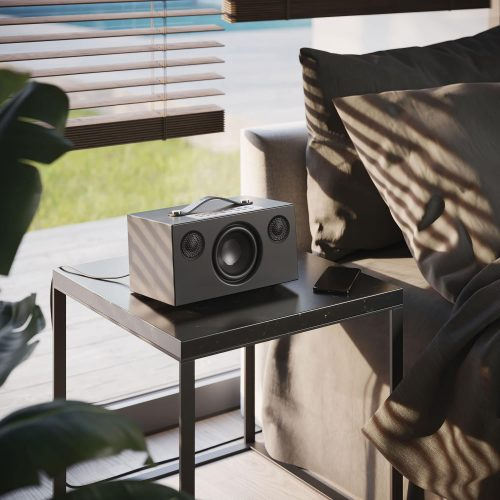 Control Your Music Conveniently and Easily
Set your preferences and take control of your listening experience with the AUDIO PRO CONTROL APP. Our app lets you connect to music through Spotify, Deezer, Tidal, TuneIn, and more. With a seamless audio experience throughout your home, you can listen to different songs in different rooms, or one song in every room at the same time and get everyone singing along.
With the ability to connect to a wide range of streaming services, you can use your wireless speaker with services including Spotify, Tidal, and Deezer. You can also use the local music library on your devices, and simply switch between each service through our AUDIOPRO APP or use presets to play your favourite music through a Bluetooth speaker.
Our wireless speaker solution allows you to save your favourite music with 4 preset buttons for instant listening. Forget the hassle of searching for your favourites every time you want to hear some music! Assign your favourite Spotify playlist, radio station, and top artist tracks to the buttons.
Fill your home with your favourite music. Place the wireless speakers anywhere you like with no restriction – treat the speaker as a great piece of furniture. With multiroom sound and multi-user capabilities, wireless speakers can be used individually or grouped together. Set individual speakers to the left or right for stereo pairs. Play all together, or independently – the choice is yours.
Customize and Adjust Your Sound
Our built-in sound enhancements let you add a little extra "oomph" to your music, fully adjustable through our application. Tweak the Bass and Treble in any way you like, instantly. Control each speaker in your home with a different sound profile to suit your requirements. Multiple levels of adjustment ensure that you will find the perfect audio experience.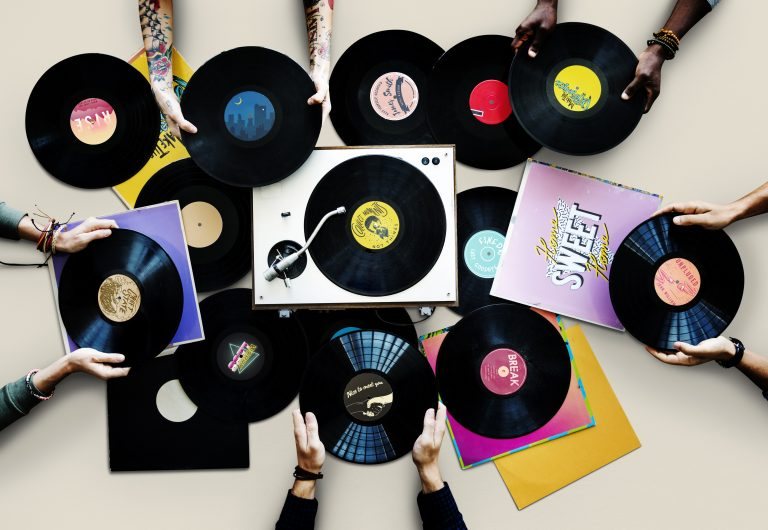 Plug in Your CD and Vinyl Collection
We want you to be able to hear your beloved music through our wireless speaker system. With AUX input, your favourite CDs from your collection or vinyl records that you treasure will have a brand new listening experience. Just connect your turntable or CD player to our wireless speaker and let the sound stream wirelessly to all the speakers in your setup.
Sound Quality is Always First
The design of our patented technology, "ACE-BASS", is the secret behind the superb audio quality of Audio Pro. Our innovative design allows us to get a greater bass impact into a smaller cabinet, allowing you to experience music with no compromise through our speaker.
WHAT IN THE BOX
Audio Pro Drumfire Speaker, Top and Bottom
Power Cable x 2
Quick Start guide
| | |
| --- | --- |
| PRODUCT INFORMATION | |
| Product category | Home |
| Product type | Speaker |
| Product available in color(s) | Black, White |
| DIMENSIONS | |
| Leght x width x height | 150 x 250 x 130 mm |
| Product weight | 2.5 kg |
| COMPONENTS | |
| Amplifier | Digital Class D – 2 x 8 W + 25 W |
| Tweeter | 2 x 0.75″ textile dome |
| Woofer | 1 x 4″ |
| INPUTS | |
| WiFi 2,4 GHz | Yes |
| Bluetooth | Yes |
| RCA | Yes |
| OUTPUTS | |
| RCA Sub | Yes |
| FREQUENCY | |
| Frequency range | 32-25000 Hz |
| Frequency crossover | 3800 Hz |
| SOUND SUPPORT | |
| Apple lossless | Yes |
| MP3 | Yes |
| WMA | Yes |
| AAC | Yes |
| FLAC | Yes |
| POWER INFORMATION | |
| Power consumption WiFi | 1.85 W |
| Power consumption STANDBY | 0.48 W |
| Power consumption ON | 3.80 W |
| USB charge (phone) | Yes |
| CONNECT COMPATIBILITY | |
| Spotify Connect | Yes |
| Tidal Connect | Yes |
| MULTIROOM COMPATIBILITY | |
| Multiroom Audio Pro | Yes |
| Multiroom AirPlay2 | Yes |
| Multiroom Google Cast | Yes |
| OTHER | |
| Number of presets | 6 |
TechX Guarantee
We understand the anxiety of shopping online in Malaysia particularly on startup and small business website; you don't get to physically hold the product before buying, how will you know if the product will live up to your expectations, ... - which is why we are committed to
Only sell/advertise products or brands that we believe in

Thoroughly research a product/model to save you time and get the most value for your money

Go the extra mile to properly package items for shipping

Rely on reputable courier service (*not necessarily the cheapest)

Provide second to none customer service (Lazada/ Shopee gets thousands of visitors a day, we have Only You to focus on)

Safeguarding your privacy & offer a seamless user experience on our ecommerce webpage

Ensure all pages and content on TechX are accessed using SSL encryption (*look for the padlock icon on the left side of the address bar...SSL allows sensitive information such as credit card numbers, login credentials to be transmitted securely)

Your satisfaction! We believe we sourced for the best quality products around, however sometimes life happens. If for any reason you are not 100% satisfied with the quality of any product, we will gladly refund your money + 20% of what your paid
In the event you still need further assurance, write to us via our Contact Form and we'll get back within 2 hours.