Our Take
The ZEN Air CAN is an excellent value-for-money, feature-rich, and versatile single-ended headphone amplifier.
Product Details
The ZEN Air CAN is a powerful, hi-res home analogue amplifier that provides greater headphone enjoyment with any analogue source such as your PC, Mac, smartphone, tablet, streamer or TV.
Enjoy an improved headphone experience with the ZEN Air CAN.
The ZEN Air CAN is an amplifier pure and simple.
It simply takes an input signal from a source such as those mentioned above and creates a larger copy of the original signal before it's sent to your headphones.
Think about listening to sound with your hands over your ears and then removing them! Adding the ZEN Air CAN into your system is a little like that – back comes clarity of sound as well as volume.
The ZEN Air CAN comes with three gain settings so that it works well with every pair of headphones or in-ear monitors (also known as IEMs).
What is gain? Gain in audio terms refers to an amplifier's ability to increase the amplitude (size) of the signal from the source (input) to the headphones or speakers (output). More gain equals a stronger signal.
You will need to adjust the gain depending on the sensitivity of the headphones or iEMs you are using. For example, highly sensitive headphones need lower gain.
The ZEN Air CAN has two different headphone sockets – 6.3mm single-ended and 4.4mm S-Balanced.
There are basically two types of headphone – single-ended and balanced. In a nutshell, single-ended is the most common but the balanced option is often considered the better as it offers more power and control of the headphones.
At iFi, we know not everyone has balanced headphones, so we've created our S-Balanced technology. This gives you all the benefits of a balanced connection – lower noise, less crosstalk – but without the need for balanced headphones.
XBass is analogue bass boost. In other words, it extends the bass response to suit different headphones.
XSpace is an analogue headphone spatialiser. This opens up your music to give you the spaciousness of a live-concert atmosphere.
Tech Specs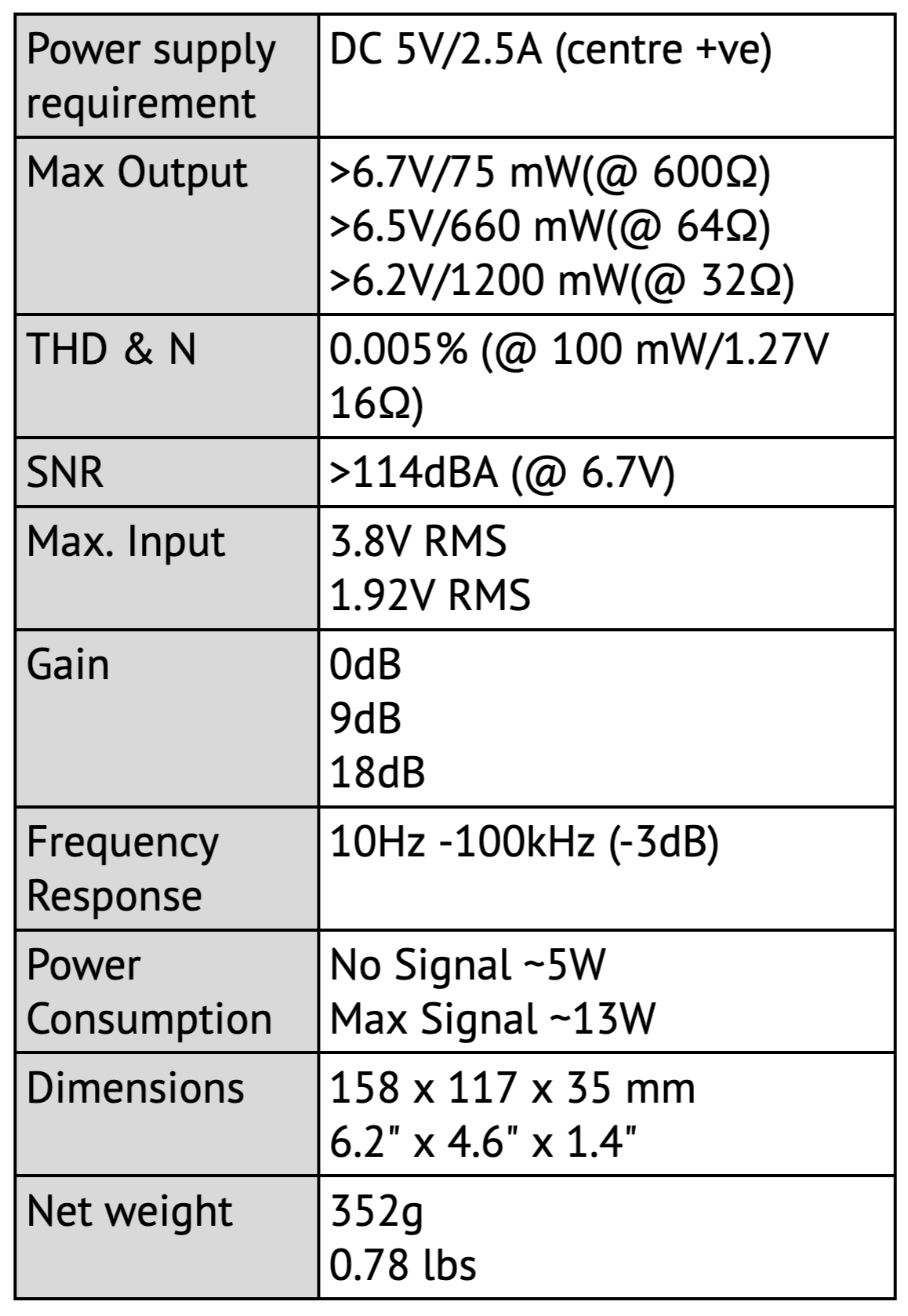 TechX Guarantee
We understand the anxiety of shopping online in Malaysia particularly on startup and small business website; you don't get to physically hold the product before buying, how will you know if the product will live up to your expectations,... - which is why we are committed to
Only sell/advertise products or brands that we believe in

Thoroughly research a product/model to save you time and get the most value for your money

Go the extra mile to properly package items for shipping

Rely on reputable courier service (*not necessarily the cheapest)

Provide second to none customer service (Lazada/Shopee gets thousands of visitors a day, we have Only You to focus on)

Safeguarding your privacy & offer a seamless user experience on our ecommerce webpage

Ensure all pages and content on TechX are accessed using SSL encryption (*look for the padlock icon on the left side of the address bar...SSL allows sensitive information such as credit card numbers, login credentials to be transmitted securely)

Your satisfaction! We believe we sourced for the best quality products around, however sometimes life happens. If for any reason you are not 100% satisfied with the quality of any product, we will gladly refund your money + 20% of what your paid
In the event you still need further assurance, write to us via our Contact Form and we'll get back within 2 hours.