Our take
Kanto SE6 desktop speaker stands make a great addition to your desktop or low AV cabinet where perfectly positioning your bookshelf speakers is needed. Take your sound Speaker to the next level.
Product details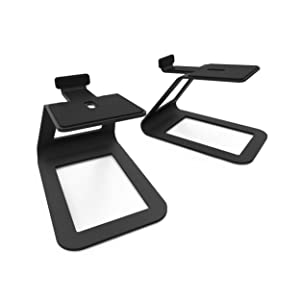 Take your sound game to the next level with the SE6 Elevated Speaker Stand. Standing at a height of 6.9", the SE6 boosts your speakers up and off the surface of your desk so that they're better aligned with your ears to give you a flawless on-axis response. It's cantilevered and the angled platform is designed to absorb resonance and deliver a pure sound without any reflections from nearby surfaces. 2.5mm of silicone padding provide a strong grip that helps keep your speakers and stand in-place. For maximum protection, the SE6 comes with a set of mounting screws that you can use to secure compatible speakers to the stand to prevent falls and accidents. The SE6 is available in both black and white and can hold up to 22 lbs.
What's in the box?
2 x stand
2 x velcro strap
| | | | |
| --- | --- | --- | --- |
| Elevate and align your speakers with your ears so that you can enjoy flawless on-axis sound and prevent reflection from nearby surfaces. | The SE6's cantilevered design and 2.5mm silicone padding absorbs resonance from the speaker cabinet to produce a clean, distortion-free sound. Use the included mounting screws to couple the speaker and stand together to increase the mass of your set-up and further reduce resonance. | SE6's clean, clutter-free design is built so that you can place extra items directly below the speakers, maximizing the utility of your desk surface and using the space normally taken up by traditional speakers. | Who says functional can't be beautiful? The SE6 stand boasts a minimal design that matches the style and colour of other Kanto accessories for a clean, consistent look. Available in a black or white finish. |
TechX Guarantee
We understand the anxiety of shopping online in Malaysia particularly on startup and small business website; you don't get to physically hold the product before buying, how will you know if the product will live up to your expectations, ... - which is why we are committed to
Only sell/advertise products or brands that we believe in

Thoroughly research a product/model to save you time and get the most value for your money

Go the extra mile to properly package items for shipping

Rely on reputable courier service (*not necessarily the cheapest)

Provide second to none customer service (Lazada/ Shopee gets thousands of visitors a day, we have Only You to focus on)

Safeguarding your privacy & offer a seamless user experience on our ecommerce webpage

Ensure all pages and content on TechX are accessed using SSL encryption (*look for the padlock icon on the left side of the address bar...SSL allows sensitive information such as credit card numbers, login credentials to be transmitted securely)

Your satisfaction! We believe we sourced for the best quality products around, however sometimes life happens. If for any reason you are not 100% satisfied with the quality of any product, we will gladly refund your money + 20% of what your paid
In the event you still need further assurance, write to us via our Contact Form and we'll get back within 2 hours.