Our take
Kanto SX26 26" Speaker Stands a great speaker stand. Heavy-duty, solid, assembles perfectly, with their simple modern looks great. Nice cable management. Comes with 2 sizes of top plate. Even a nice fill bag to prevent dust.
Product details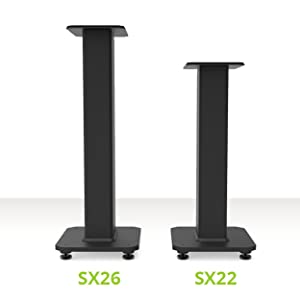 The SX series of premium floor-standing speaker stands with a bespoke isolation system, decouples the speaker stands from the floor for class-leading audio performance. The leveling system accessible from the top of the base plate, combined with the included bullseye level lets you adjust the level with ease. The heavy-duty base plates provide the perfect platform with a dedicated channel for cable management and a separate, spacious column to fill provided bags with the substrate of your choice. Hard floor discs with silicone pads protect wooden floors and optional top plate adhesive foam pads improve dampening. Available in 22" or 26" tall models and black or white finishes to match any space or aesthetic.
What's in the box?
2 x Stands
2 x Small Top Plates
2 x Large Top Plates
2 x Foam Pads for Small Top Plates
2 x Foam Pads for Large Top Plates
2 x Bags for Filling Material
Manuals
| | | | |
| --- | --- | --- | --- |
| Dedicated channel for substrate and fillable bags reduce resonance while isolating feet decouple your speakers from the room. | Two top plates are provided for compatibility with a wide range of speaker sizes. | Dedicated cable channel to neatly run cables for a clean setup. | Easily adjust the height of each foot from above the base and verify with the included bullseye level to ensure your speakers are flat. |
TechX Guarantee
We understand the anxiety of shopping online in Malaysia particularly on startup and small business website; you don't get to physically hold the product before buying, how will you know if the product will live up to your expectations, ... - which is why we are committed to
Only sell/advertise products or brands that we believe in

Thoroughly research a product/model to save you time and get the most value for your money

Go the extra mile to properly package items for shipping

Rely on reputable courier service (*not necessarily the cheapest)

Provide second to none customer service (Lazada/ Shopee gets thousands of visitors a day, we have Only You to focus on)

Safeguarding your privacy & offer a seamless user experience on our ecommerce webpage

Ensure all pages and content on TechX are accessed using SSL encryption (*look for the padlock icon on the left side of the address bar...SSL allows sensitive information such as credit card numbers, login credentials to be transmitted securely)

Your satisfaction! We believe we sourced for the best quality products around, however sometimes life happens. If for any reason you are not 100% satisfied with the quality of any product, we will gladly refund your money + 20% of what your paid
In the event you still need further assurance, write to us via our Contact Form and we'll get back within 2 hours.