Our take
Get the most out of your home audio system with high quality, 14 AWG braided speaker wire with gold plated banana plug connectors from Monoprice on TechX.com.my! Authorized distributor and re-seller for Monoprice in Malaysia. 1 set includes 2 wires, one black, one red - for 1 speaker.
Product details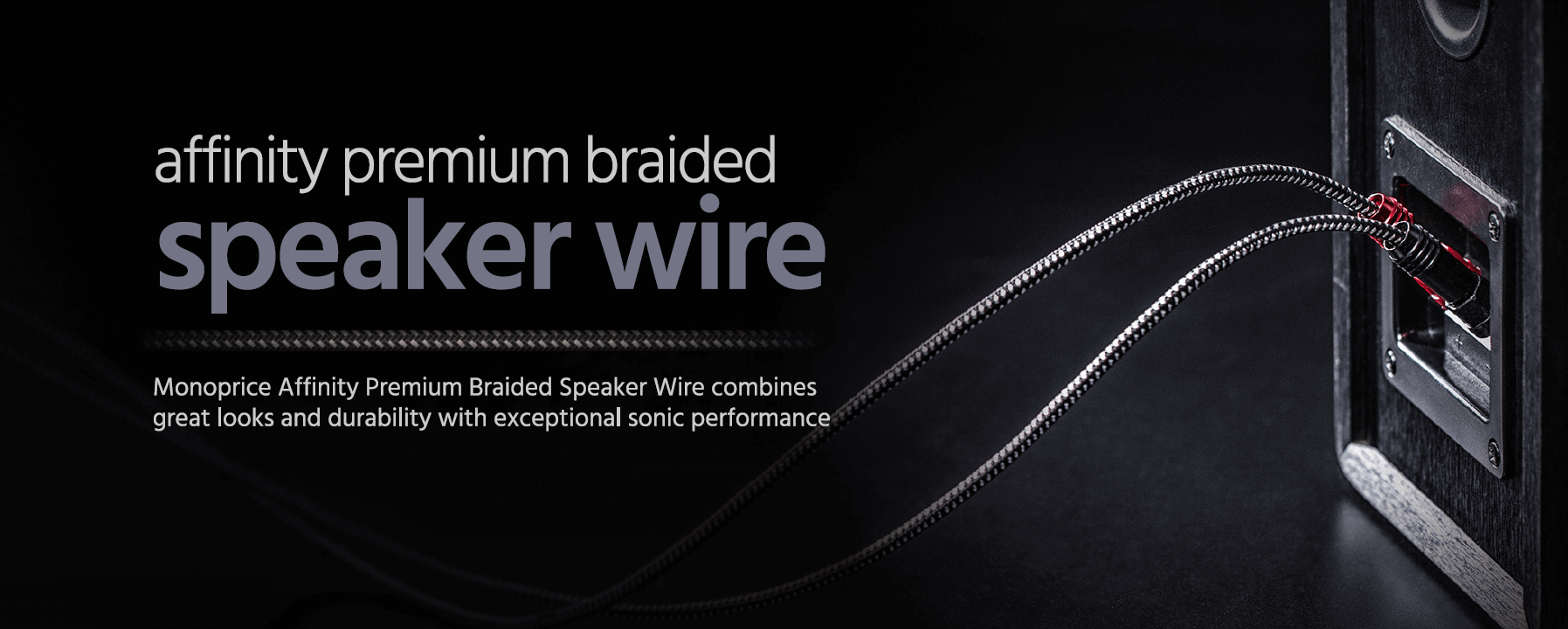 Monoprice Affinity™ Premium Braided Speaker Wire combines great looks and durability with exceptional sonic performance, making it the ideal speaker wire solution for the serious audiophile. The 14AWG copper conductors have been tinned to prevent corrosion and the braided fabric outer jacket not only helps prevent damage to the jacket, but also won't scratch your speaker cabinets. Each wire is terminated with color-coded, gold plated banana plugs at each end, ensuring that you can quickly and accurately connect your speakers to your amplifier. Backed by Monoprice's world renowned Lifetime Replacement Warranty, there is no better choice than Monoprice's Affinity Premium Braided Speaker Wire!
Two Conductors: Affinity™ Premium Braided Speaker Wire features two 14AWG conductors with color-coded aluminum connectors, making it easy to match polarity.
Long Lasting Durability: Featuring tinned, oxygen-free copper conductors and gold plated banana plugs, these wires are designed for long-term corrosion resistance, durability, and sonic clarity.
Premium Soft-Touch Braided Jacket: These wires have been wrapped in braided fabric, giving them a soft-touch to protect your speakers' finish, yet retaining the flexibility of ordinary speaker wire.
Professional Grade: Packed with professional grade features, such as color-coded, brushed aluminum connectors, gold plated banana plugs, and a braided fabric jacket, you get the appearance of a professional installation, without the cost of hiring someone or the hassle of making them yourself.
TechX Guarantee
We understand the anxiety of shopping online in Malaysia particularly on startup and small business website; you don't get to physically hold the product before buying, how will you know if the product will live up to your expectations, ... - which is why we are committed to
Only sell/advertise products or brands that we believe in

Thoroughly research a product/model to save you time and get the most value for your money

Go the extra mile to properly package items for shipping

Rely on reputable courier service (*not necessarily the cheapest)

Provide second to none customer service (Lazada/ Shopee gets thousands of visitors a day, we have Only You to focus on)

Safeguarding your privacy & offer a seamless user experience on our ecommerce webpage

Ensure all pages and content on TechX are accessed using SSL encryption (*look for the padlock icon on the left side of the address bar...SSL allows sensitive information such as credit card numbers, login credentials to be transmitted securely)

Your satisfaction! We believe we sourced for the best quality products around, however sometimes life happens. If for any reason you are not 100% satisfied with the quality of any product, we will gladly refund your money + 20% of what your paid
In the event you still need further assurance, write to us via our Contact Form and we'll get back within 2 hours.