Our take
Think of this as the junior version of the RME ADI2 DAC FS, that currently retails at > than 130% Monolith by Monoprice Desktop Balanced Headphone Amplifier and DAC with THX AAA Technology.

The main differences are:
RME

Monoprice

has a remote

has a much deeper menu/ options feature list, such as the potential to save different EQ settings for several different headphones, even with different L&R channel EQ settings

Crossfeed feature

has DIRAC II surround

has both balanced and unbalanced headphone outputs

has a slightly warmer, less analytical sound than RME

has by far a much easier UI to work with

"The Monoprice has ALL the features that I use the most, and I prefer the Dirac II over the crossfeed.
If you already have the Monoprice, unless you MUST have a remote, the RME is awfully hard to justify at more than double Monoprice 24459's cost. The Monoprice unit blows away everything in its price class. Match it with a good tube headphone amp and Sennheiser HD800S headphones, deploy the DIRAC II, and you're in musical heaven. There are no words to describe the experience. I was blown away. The RME simply cant do that. The best dollar for dollar value you can get in headphone audio. Powerhouses anything through 24-300 ohms." User review
Product details

The Monolith™ THX® Desktop Headphone Amplifier and DAC features cutting edge technology to bring out the best in your headphones, playback device, and music library. Featuring dual THX AAA™ 788 amplifier modules for best in class amplification, an AKM® 4493 DAC for an exceptionally musical experience, and Dirac Sensaround® II decoding for an out-of-your-head, larger than life soundstage, the Monolith amplifier is engineered for the finest in music reproduction. A host of inputs and outputs, including balanced, unbalanced, and digital, ensures that you have plenty of ways to connect your audio devices.

THX: The World's Most Linear Amplifier Technology
The THX Achromatic Audio Amplifier (THX AAA) ensures the ultimate no compromise headphone audio experience by delivering the world's highest fidelity audio with infinitesimally low levels of noise, distortion and power consumption.
True Balanced Operation (Dual Amps. Dual DACs. True Balanced Output.)
When using the balanced inputs and the balanced headphone output, each THX stereo amplifier module operates in a bridged configuration to maximize output power for each channel. Each DAC operates in mono mode, essentially giving a DAC each to the left and right channels.
Dual AKM 4493 DACs
Detailed Sound. Exceptional Musicality. The AKM AK4493 is AKM's new flagship 32-bit stereo premium DAC. It supports PCM inputs up to 768kHz and a Direct Stream Digital (DSD) input of 2.8/ 5.6/ 11.2 (maximum) MHz,the industry's highest level. An internal circuit employs a newly developed 32-bit digital filter for the ultimate in sound quality and musicality.
Dirac Sensaround II (Expand Your Headspace)
Music is usually mixed with loudspeakers in mind, not headphones. As a result, headphone listening is often plagued by a distorted soundstage - instruments and voices may seem incorrectly placed and trapped inside your head, causing an unnatural listening experience. Dirac Sensaround II creates a vast, clear and realistically immersive soundstage free from the constraints of the space in your ear, much like a multi-speaker home theater system. Whether you are watching movies, listening to music or playing games, Dirac Sensaround puts you in the center of the realistic experience. No fuzzy sound, fake spatial effects, or poorly placed sound objects. Just transparent and natural sound as in a well-designed cinema, studio or any other professionally engineered space.
Versatile Inputs (Digital or Analog - We've got you covered.)
This amplifier features several types of digital and analog inputs to support all of your input devices.Use the USB, optical, coaxial and AES3/ EBU inputs to connect your digital devices or the balanced or unbalanced inputs for your analog devices.
Tailor Your Sound (PEQ & Shelf EQ)
Use the powerful digital tools to tailor the sound to your personal preference. Does your headphone have a little sibilance? Set a PQ to tame that frequency peak. Use the shelf EQ to provide an adjustable boost or cut to frequencies above (HF) or below (LF) the frequency setting.
DAC Filter Speed Settings
The DAC filters allow the characteristics of the DAC low-pass filter (LPF) to be changed. Normally ruler flat in the audio band the slope of the high frequency (HF) cutoff can be made less sharp. This setting can be useful depending on personal preferences and/ or the headphones being used. For technical details, refer to the AK4493 data sheet.
Dynamic Range Control
Use the DRC functionality to set the shelving filters. The DRC starts with low-pass and high-pass filters to split the low and high frequencies (24dB/oct @ 140Hz), followed by two independent stereo compressors and a mixer to combine the low and high bands. A soft knee is not used i.e compression starts exactly above the threshold level with no compression below the threshold. The LF offset simply adjusts the threshold level of the LF compressor relative to the HF compressor (the LF compressor threshold level is the threshold level setting plus the LF offset setting). The DRC block is before the volume control, so the DRC threshold level refers to the level of the incoming signal source. The attack time of the compressors is approximately 100 milliseconds.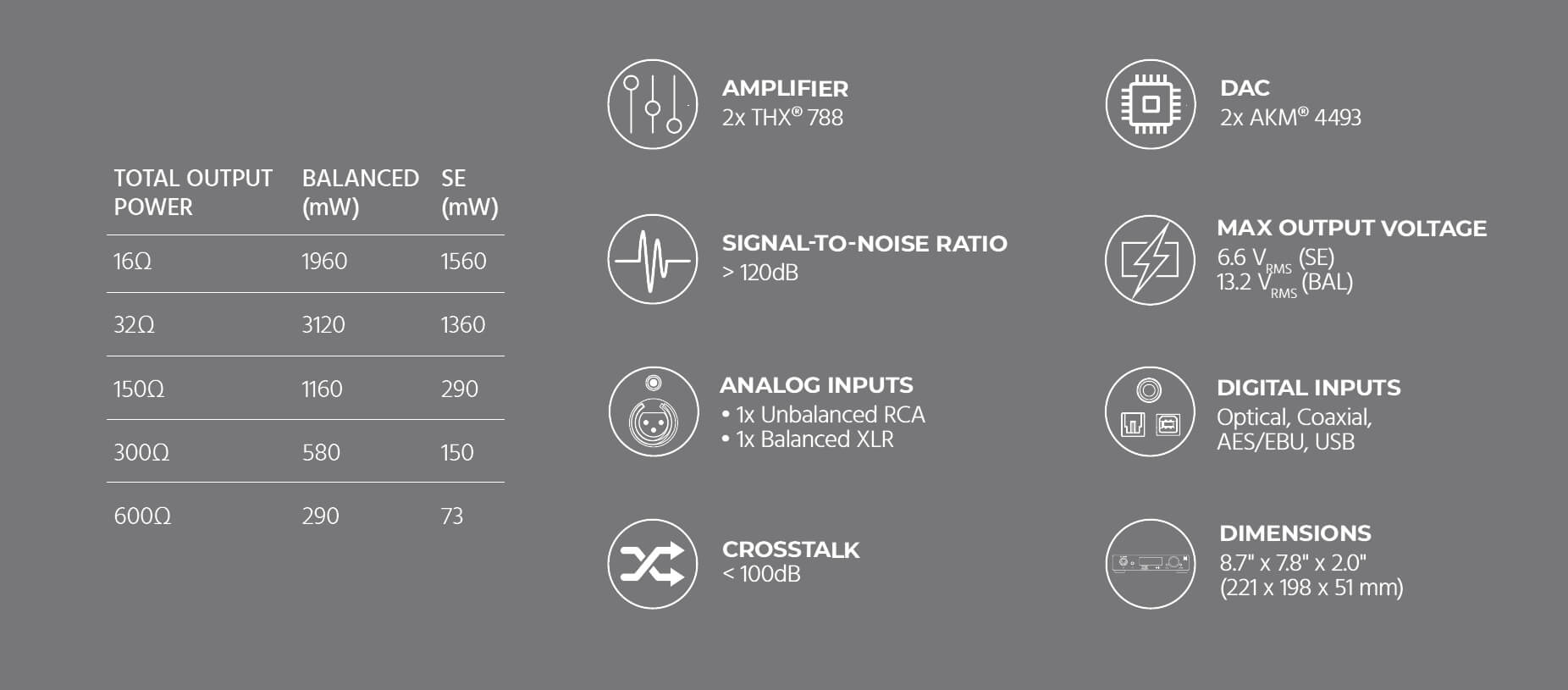 Tech specs
| | |
| --- | --- |
| Amplifier | 2x THX AAA™ 788 |
| DAC | 2x AKM® AK4493 |
| Analog inputs | 1x unbalanced RCA, 1x unbalanced XLR |
| Digital inputs | 1x Optical, 1x Coaxial, 1x AES/EBU, 1x USB |
| Playable frequency response | 1Hz ~ 40kHz ±0.5dB (96kHz input) |
| Signal-to-Noise Ratio (A-Weighted) | > 120 dB |
| Dynamic range | > 120 dB |
| Total harmonic distortion | < 0.0005% |
| Crosstalk | < 100 dB |
| Maximum XLR input voltage | 5.2 Vrms |
| XLR input impedance | 20 kilohms |
| Maximum RCA input voltage | 2.6 Vrms |
| RCA input impedance | 10 kilohms |
| Optical sampling frequency | 96 kHz |
| Maximum optical resolution | 24 bits |
| Coaxial sampling frequency | 192 kHz |
| Maximum coaxial resolution | 24 bits |
| AES/ EBU sampling frequency | 192 kHz |
| Maximum AES/ EBU resolution | 24 bits |
| Supported sampling rates | 32 ~ 192 kHz |
| Direct Stream Digital support | DSD64. DSD128 |
| Input power | 16 VDC, 1.25 A |
| AC adapter input power | 100 ~ 240 VAC, 0.5 A, 50/60 Hz |
| Dimensions | 8.7" x 7.8" x 2.0" |
TechX Guarantee
We understand the anxiety of shopping online in Malaysia particularly on startup and small business website; you don't get to physically hold the product before buying, how will you know if the product will live up to your expectations, ... - which is why we are committed to
Only sell/advertise products or brands that we believe in

Thoroughly research a product/model to save you time and get the most value for your money

Go the extra mile to properly package items for shipping

Rely on reputable courier service (*not necessarily the cheapest)

Provide second to none customer service (Lazada/ Shopee gets thousands of visitors a day, we have Only You to focus on)

Safeguarding your privacy & offer a seamless user experience on our ecommerce webpage

Ensure all pages and content on TechX are accessed using SSL encryption (*look for the padlock icon on the left side of the address bar...SSL allows sensitive information such as credit card numbers, login credentials to be transmitted securely)

Your satisfaction! We believe we sourced for the best quality products around, however sometimes life happens. If for any reason you are not 100% satisfied with the quality of any product, we will gladly refund your money + 20% of what your paid
In the event you still need further assurance, write to us via our Contact Form and we'll get back within 2 hours.