Our take
Topping NX3S is a portable, battery powered headphone amp that is great when the output is not totally clean or with a general low quality. It won't do wonders and magically make the signal perfect, but it will make the background cleaner and improve the clarity and bass response. Features OPA2140 + LME49720 components, ALPS potentiometer/ WIMA capacitors to provide a highly musical reproduction.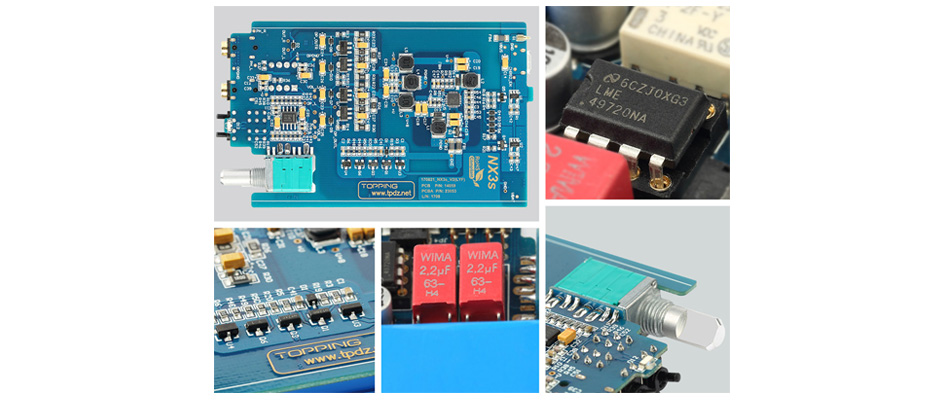 Product details
An ideal pairing for your smartphone or portable digital audio player, the Topping NX3s headphone amplifier is designed to drive headphones and IEMs with low distortion and noise. It significantly improves upon the power output of its predecessor, the NX3, with an output of 545 mW at 32 ohms, giving it the ability to drive more demanding full-size cans. The front panel has two gain settings and a selectable bass boost, allowing you to easily toggle between these options.
NX3s is built using high quality components, including OPA2140 and LME49720 operational amplifiers by Texas Instruments (the latter is installed in a DIP8 bracket, allowing the user for an easy swap to get a different sound signature), WIMA capacitors and ALPS potentiometer.

TI OPA2140 is a low-power JFET input amplifier that features good drift and low input bias current. The OPA2140 achieves 11-MHz unity-gain bandwidth and 20-V/µs slew rate while consuming only 1.8 mA (typical) of quiescent current. It features rail-to-rail output swing, low noise and very low offset and offset drift. Thanks to these specs, OPA2140 delivers a crisp, high fidelity sound with no distortions and background noise.

TI LME49720 is a ultra-low distortion, low noise, high slew rate operational amplifier optimized and fully specified for high performance. Combining advanced leading-edge process technology with state-of-the-art circuit design, the LME49720 audio operational amplifier delivers superior audio signal amplification for outstanding audio performance. The LME49720 combines extremely low voltage noise density (2.7nV/√Hz) with vanishingly low THD+N (0.00003%) to easily satisfy the most demanding audio applications. But if that's not enough or a user is seeking different sound signature, the LME49720 is conveniently installed in a DIP8 bracket and can be easily swapped.

Thanks to these components Topping NX3s THD+N is less than 0.0017% at 1kHz for an output of 273MW at 300Ω or less than 0.0003% at 1kHz for an output of 50mW at 32Ω. The noise level is less than 2.5µVrms with the gain set to "low" or less than 6.5µVrms with a gain set to "high". Finally, the SNR is higher than 120dB. These specs ensure a precise, rich and clean amplification of a wide range of headpones and earphones.

Optional bass boost and gain setting switches additionally increase NX3s versatility and allow the user to alter the sound signature of their system and drive anything from low-impedance earbuds to full-sized, power-hungry planar magnetic headphones.

Topping Audio NX3s is fitted with a 2400mAh battery that allows for at least 18 hours of music on one charge, and full charge takes only 4 hours (@ 1A)! NX3s design is clean, intuitive and user friendly. Its anodized aluminum body feels solid and the volume knob has been designed in a way that minimizes the risk of unintentional sound level adjustments.
Tech specs
| | |
| --- | --- |
| Measured | 10.7cm x 6.6cm x 1.36cm |
| Weight | 157g |
| Charging port | Micro USB |
| Charge time | < 4 hours @1A |
| Worktime on a single charge | 18 hours |
| THD+N | <0.0017% |
| SNR | > 120dB |
| Noise | <2.5uV(Low Gain), <6.5uV(High Gain) |
| Gain | 0dB/8.8dB |
| Bass | 0dB/4.0dB |
| Output Power | 545mW x 2 (32Ω); 100mW x 2 (300Ω) |
| Frequency response | 20Hz-200kHz |
| Recommended Headphone Impedance | 16-300 ohm |
TechX Guarantee
We understand the anxiety of shopping online in Malaysia particularly on startup and small business website; you don't get to physically hold the product before buying, how will you know if the product will live up to your expectations, ... - which is why we are committed to
Only sell/advertise products or brands that we believe in

Thoroughly research a product/model to save you time and get the most value for your money

Go the extra mile to properly package items for shipping

Rely on reputable courier service (*not necessarily the cheapest)

Provide second to none customer service (Lazada/ Shopee gets thousands of visitors a day, we have Only You to focus on)

Safeguarding your privacy & offer a seamless user experience on our ecommerce webpage

Ensure all pages and content on techX are accessed using SSL encryption (*look for the padlock icon on the left side of the address bar...SSL allows sensitive information such as credit card numbers, login credentials to be transmitted securely)

Your satisfaction! We believe we sourced for the best quality products around, however sometimes life happens. If for any reason you are not 100% satisfied with the quality of any product, we will gladly refund your money + 20% of what your paid
In the event you still need further assurance, write to us via our Contact Form and we'll get back within 2 hours.