Our take
TOPPING PA3s is a Class D amp, meaning it's power-efficient and produces less heat than a Class A amp. That makes it perfect for a discrete bookshelf unit where heat can be an issue. This Amp is fully balanced and each channel is powered by its own Class D amplifier chip. This reduces crosstalk and provides better audio performance. In addition, it reduces the load on the amp chips, therefore, extending the longevity of the amp.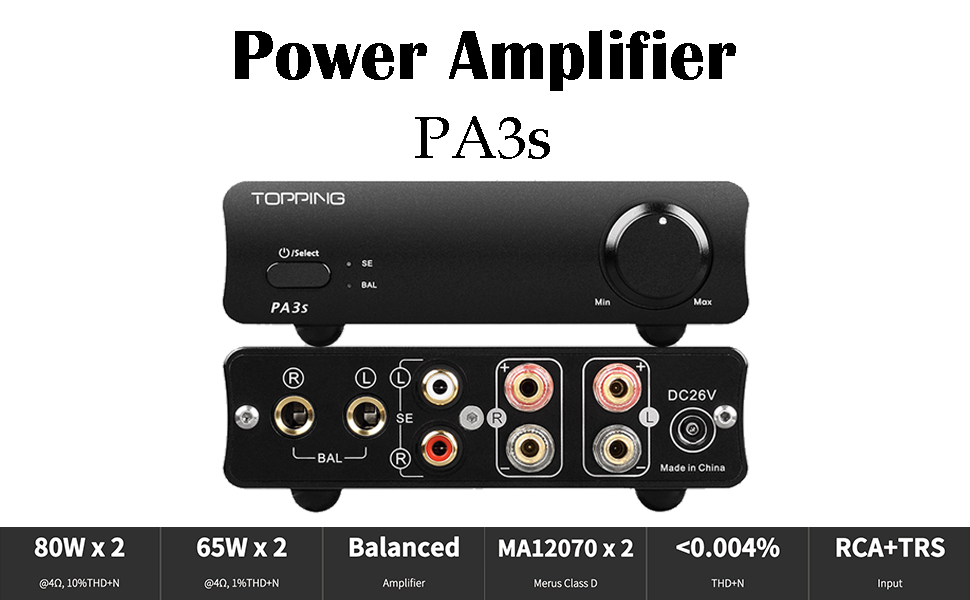 Product details
Desktop digital amplifier
PA3s is a high-performance desktop digital amplifier that supports RCA unbalanced and TRS balanced inputs.
Maximum output power up to 80W x 2 (40), and a little body contains a huge amount of energy!
We hope it could bring you more fun at enjoying music
High output power
PA3s could output 80W x2 at 4ohm load,10%THD+N.In higher standard of THD+N of 1%,output power will be 65Wx2 at 4ohm load.
The output power is enough to drive any bookshelf speakers and even some floor speakers.
80WX2 @42,10%THD+N

65WX2 @42,1%THD+N

Balanced Amplifier

MA12070X2 Merus Class D

THD+N <0.004%

RCA+TRS Input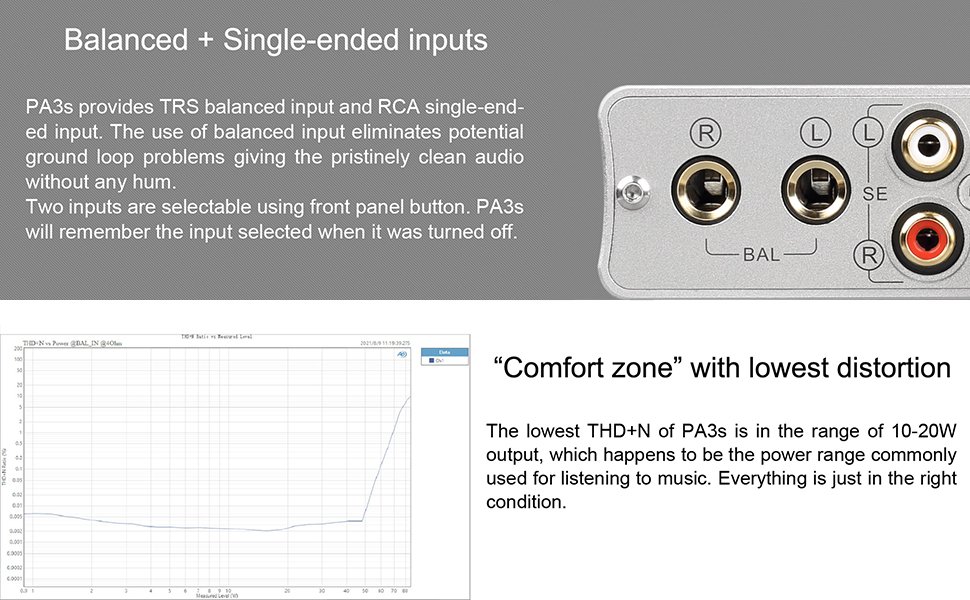 D10 Balanced could be best USB DAC for PA3s
D10 Balanced can provide high-fidelity USB decoding and TRS balanced output. When used with PA3s, it is equivalent to adding a high performance USB input to PA3s. This combination is simple and efficient.

With the help of a DAC, the function is expanded to a greater extent
PA3s can be used with a DAC to expand the categories of digital inputs; if used with a DAC+HPA, more comprehensive functions can be achieved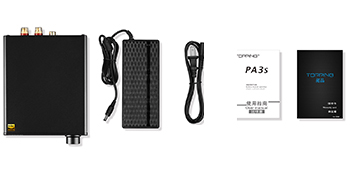 Contents list
PA3s
AC to DC power adapter
AC cable
User manual
Quality card
Spec
Measured: 16.8cm×12.0cm×4.0cm
Weight: 740g
Powerinput: DC26V15.76A@DC base5.5*2.1
Signal inputs: SE,BAL
Signal output: Speaker terminal (BTL output)
TechX Guarantee
We understand the anxiety of shopping online in Malaysia particularly on startup and small business website; you don't get to physically hold the product before buying, how will you know if the product will live up to your expectations, ... - which is why we are committed to
Only sell/advertise products or brands that we believe in

Thoroughly research a product/model to save you time and get the most value for your money

Go the extra mile to properly package items for shipping

Rely on reputable courier service (*not necessarily the cheapest)

Provide second to none customer service (Lazada/ Shopee gets thousands of visitors a day, we have Only You to focus on)

Safeguarding your privacy & offer a seamless user experience on our ecommerce webpage

Ensure all pages and content on TechX are accessed using SSL encryption (*look for the padlock icon on the left side of the address bar...SSL allows sensitive information such as credit card numbers, login credentials to be transmitted securely)

Your satisfaction! We believe we sourced for the best quality products around, however sometimes life happens. If for any reason you are not 100% satisfied with the quality of any product, we will gladly refund your money + 20% of what your paid
In the event you still need further assurance, write to us via our Contact Form and we'll get back within 2 hours.