Our Take

"Wonderfully balanced and informative sound" ★★★★★
Diamond 220 Review, What Hi-Fi? Sound And Vision
"By any standards, the Diamond 220s are musically-worthwhile speakers – and by budget standards, they're crackers."
Diamond 220, Hi-Fi World - Awarded 5 Globes
Wharfedale Diamond 220
Quite simply put, the Wharfedale Diamond is one of their most successful speaker series, if not one of the most successful hi-fi speaker series ever. They can justify this as year on year, the Diamond Series has broke the mould for combining award winning sound quality unforeseen at this price.
From 1982 Wharfedale Diamond has meant one thing – impeccable performance at an affordable price. Today they are pleased to bring you the latest series of loudspeakers from Wharfedale that aspires to this tradition – Diamond 200 Series.
Foremost in the design criteria for Diamond 200 is the ongoing research into loudspeaker driver sound quality. The speaker series uses their famous woven Kevlar cone form, drawing influence from the flagship Jade Series.
Since 1982, Wharfedale's renowned Diamond loudspeakers have served as the gateway to true hi-fi sound. Due to the combination of excellent sound performance and the right price-quality ratio, this series has already received numerous awards. With over eighty years in loudspeaker design and manufacturing, one important thing has been learned, keep it simple. That is why the Diamond 200 series was created.
An important criterion in the design of the Diamond 220 is the continuous research into the sound quality of the drivers. The 220 uses the famous woven Kevlar cone shapes. The drivers feature the latest hi-fi technology for beautiful texture and dynamic instrumentation, making music more expressive and compelling than ever before.
The Diamond 220 is a compact two-way bookshelf speaker, with the bass port located at the bottom. The advantage of this is that the wall behind does not generate a strong interaction with the speaker, which increases the sound quality.
One of the Greatest Values in Audio: Award-Winning Wharfedale Diamond 220 Bookshelf Loudspeaker Delivers Sublime Transparency, Incredible Balance, and Pinpoint Accuracy Wharfedale Diamond 220 Bookshelf Loudspeaker Sounds Airy, Open, Musical, Natural, and Clear: Enjoy Audiophile Performance for a Budget Price from the "Best Speaker Under $400" Like the world's most beautiful diamonds, the Wharfedale Diamond 220 bookshelf loudspeaker offers a rare combination of balanced dispersion, brilliant proportionality, and sublime transparency. A two-way speaker that sounds much bigger than its compact size, the award-winning Diamond 220 exhibits crackerjack musicality, pinpoint accuracy, and refined tonality. You'll hear sheer instrumental naturalism, lifelike vocal reproduction, and tautly focused soundstages. A 5.1-inch bass driver ensures rich, controlled bottom-end performance while the soft-dome treble spoils you with smooth, supple highs. Elevated sensations of airiness, spaciousness, and openness make every type of music come alive with covetable vibrancy, intimacy, and energy on par with speakers far above Diamond 220's price class. Built to exacting standards, Diamond 220 puts an end to treating music as background entertainment. Never again will you long for close connections to your favorite artists or be tempted to leave the room while a song is playing. The emotional involvement rendered by Diamond 220 is that significant. Upgraded construction materials, fine-tuned crossovers, Wharfedale's signature woven-Kevlar drivers, updated bass and treble units, and a slot-loaded port turn this speaker into an overachieving dynamo. Compatible with mid- and higher-powered amplifiers, Diamond 220 obliterates precepts associated with budget products and stakes its claim as one of the best values in audio. Hear it for yourself
+ Wonderfully balanced and informative sound
+ Expressive dynamics
+ Fine integration
+ Unfussy nature
+ Overflowing with detail
+ Deep, controlled bass
+ Neatly finished
+ Easy to install
+ Excellent price/quality ratio
Product Details
GREAT SOUND, LOW COST & ZERO COMPLICATIONS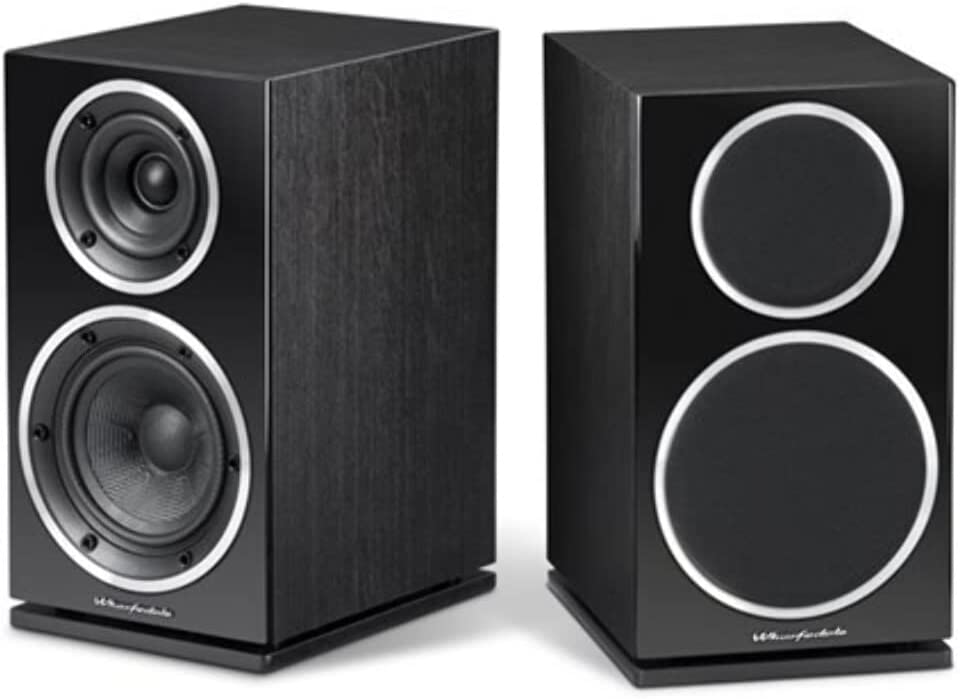 Over eighty years at the leading edge of loudspeaker design and manufacturing has taught them one important thing, keep it simple. Wharfedale Diamond series is about simple design principles matched with simple design features at a truly affordable price. It's why Diamond is one of their most successful speaker series ever. With Diamond 200, yes they've improved the driver technology, utilised Kevlar woven woofers and included a new slot- loaded bass porting system. But it's still just a speaker, albeit an incredibly dynamic, very affordable speaker. It's what you wanted. So they thought, why complicate it?
SPEAKERS BUILT FOR YOUR LISTENING TASTES & SPACE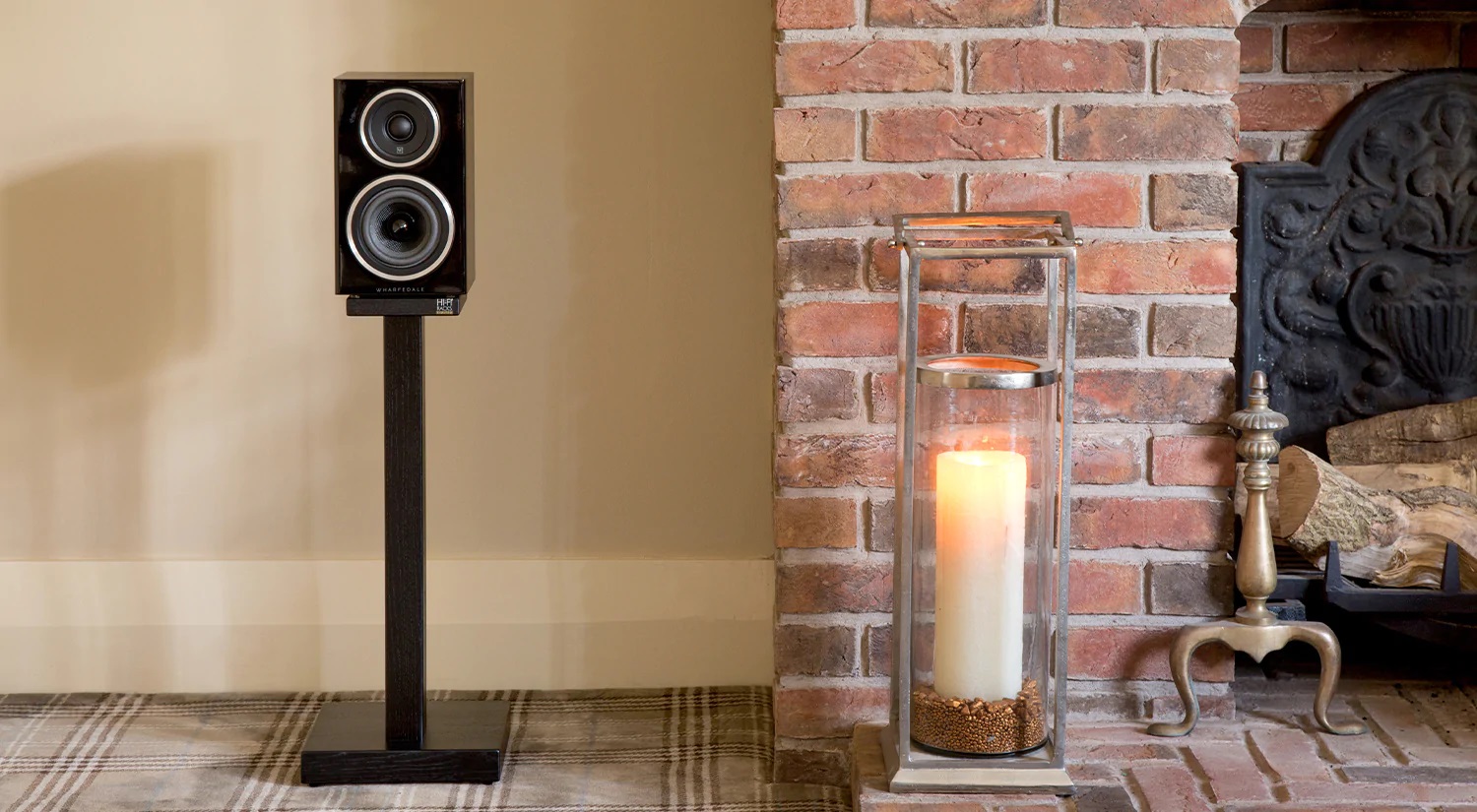 Improved cabinet construction and materials means you hear more of the drivers and less of the cabinet, making your favourite artists come to life.
Diamond 200 drivers boast the latest hi-fi technology to deliver wonderfully textured vocals with dynamic instrumentation. Music is more expressive, more compelling than ever before. And the new slot-loading technology permits near-wall positioning, meaning they'll sound great wherever you place them. Music tastes, listening space, vinyl CDs and streaming; they're all beautifully different. So they built loudspeakers that best suit your circumstances, not theirs.
THE DIAMOND CUT THE BEST SUITS YOU

Diamond 220 are a 2-way bookshelf loudspeaker featuring 25mm soft dome tweeters and 130mm woven kevlar bass drivers. Combined with a slightly larger chassis than Diamond 210 (315mm x 174mm x 227mm), Diamond 220 offer slighter deeper bass response and wider dynamic range, perfect for small to medium sized living rooms and bedroom spaces. Plus Slot-loading bass ports permit near-wall positioning, meaning they'll sound great almost anywhere you put them. Enjoy all the clarity, all the texture of high-fidelity audio from a slightly larger, more dynamic bookshelf speaker, and experience music like never before thanks to Diamond 220.
Tech Specs
| | |
| --- | --- |
| General Description | 2-Way Bookshelf Speaker |
| Enclosure Type | Rectilinear Bass Reflex (Slot Loaded) |
| Placement Bass Reflex | Bottom |
| Transducer Complement | 2-Way |
| Bass Driver | 130mm (5") Woven Kevlar Cone (KlarityTM) |
| Treble Driver | 25mm (1") Soft Dome |
| AV Shield | No |
| Sensitivity (2.83V @ 1M) | 86dB |
| Recommended Amplifier Power | 25-100W |
| Peak SPL | 95dB |
| Nominal Impedance | 8Ω Compatible |
| Minimum Impedance | 4.1Ω |
| Frequency Response (+/-3dB) | 56Hz - 20kHz |
| Bass Extension (-6dB) | 45Hz |
| Crossover Frequency | 2.2kHz |
| Cabinet Volume (in Litres) | 7L |
| Height (on Plinth & Spikes) | 315mm |
| Width | 174mm |
| Depth (with Terminals) | (227+28)mm |
| Weight | 5.3kg/piece |
TechX Guarantee
We understand the anxiety of shopping online in Malaysia particularly on startup and small business website; you don't get to physically hold the product before buying, how will you know if the product will live up to your expectations,... - which is why we are committed to
Only sell/advertise products or brands that we believe in

Thoroughly research a product/model to save you time and get the most value for your money

Go the extra mile to properly package items for shipping

Rely on reputable courier service (*not necessarily the cheapest)

Provide second to none customer service (Lazada/Shopee gets thousands of visitors a day, we have Only You to focus on)

Safeguarding your privacy & offer a seamless user experience on our ecommerce webpage

Ensure all pages and content on TechX are accessed using SSL encryption (*look for the padlock icon on the left side of the address bar...SSL allows sensitive information such as credit card numbers, login credentials to be transmitted securely)

Your satisfaction! We believe we sourced for the best quality products around, however sometimes life happens. If for any reason you are not 100% satisfied with the quality of any product, we will gladly refund your money + 20% of what your paid
In the event you still need further assurance, write to us via our Contact Form and we'll get back within 2 hours.