Our take
Feel like movies and songs are playing live in your living room with the Audio Pro A28 multiroom speaker. It provides multi-person usage and is compatible with AirPlay 2 to stream contact from your Apple device to the speaker. Moreover, this multiroom speaker features a 1″ textile dome and 1 4.5″ woofer for cinematic sound indoors. As a result, it's a great addition to connect to your TV via Wi-Fi, Bluetooth, or a wired connection. Furthermore, the Audio Pro A28 is compatible with Spotify Connect and Tidal Connect for easy set-up. Available in white or black it has an elegant design that'll suit any home setup without taking up much room. In fact, it measures 238 mm tall and 150 mm wide. Overall, upgrade to this speaker for room-filling audio.
Product details
AUDIO PRO is a Swedish audio company with a solid Hi-Fi heritage. Nearly four decades ago in 1978, we started building powered speakers with a single ambition in mind; to give you the best sound quality at the best possible cost. In the 1970s, Audio Pro launched a series of active speakers that, thanks to their advanced technology and high-quality sound, became iconic milestones in speaker history. Today, Audio Pro is pursuing the same goals in speaker design, great sound from small speakers. All powered and all wireless.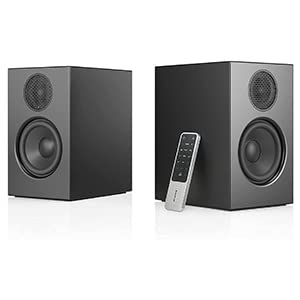 Audio Pro A28
The A28 is the new, improved version of A26. It offers AirPlay 2, Google Cast, and Spotify Connect, and an even greater sound than its predecessor. With these speakers, you can take total control of your home entertainment.
With the multiroom feature the A28 can be connected to your other Audio Pro multiroom speakers in your network.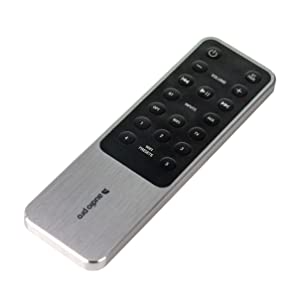 ARC & MIDNIGHT MODE
Now you are able to watch movies late at night without waking up sleeping family members or disturbing your neighbors. In our new midnight mode, you can enjoy TV and movies at even lower volume than before. We also added a dynamic compression feature, which means that sudden loud sounds will be brought down to a lower volume level. The midnight mode also adds a voice clarity enhancement for clear dialogue at low volume levels. At the same time, the subwoofer output is turned off.
The midnight mode is only available on TV/ARC input and is activated/indicated in the APP.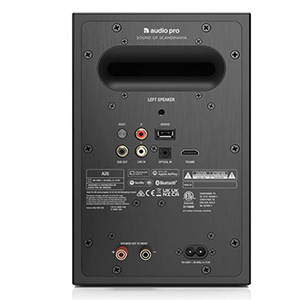 Excellent TV Sound
In the app you can finetune your speakers bass/treble and add a virtual surround effect (Virtual Surround only available for the ARC input). This will give you a wider soundstage when watching movies. The function can be finetuned in 3 different steps to best suit your own preferences and room.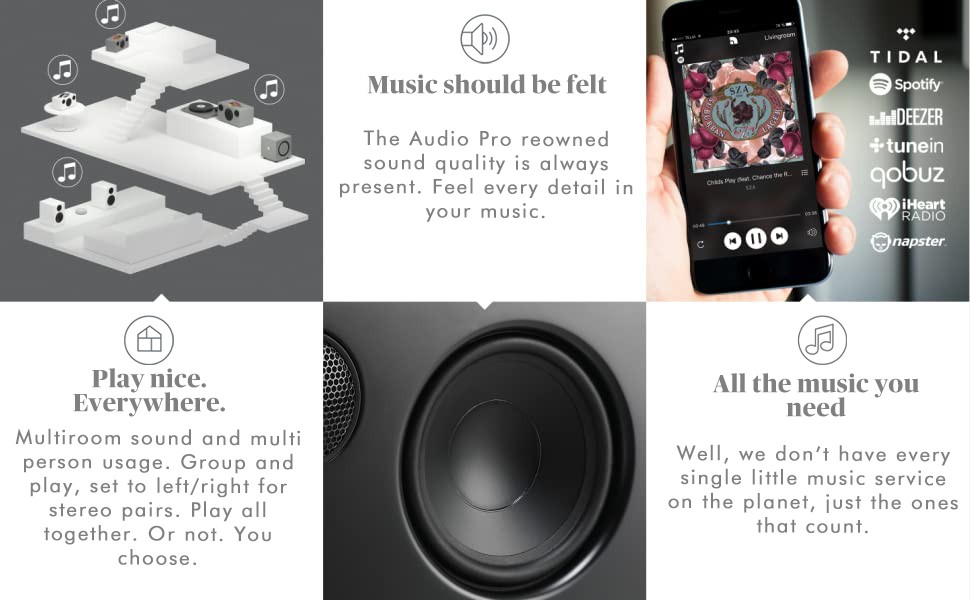 | | |
| --- | --- |
| PRODUCT INFORMATION | |
| Product category | Home |
| Product type | Speaker |
| Product available in color(s) | Black, White |
| Description | Wireless multiroom speaker |
| DIMENSIONS | |
| Leght x width x height | 200 x 150 x 238 mm |
| Product weight | 2 x 3.3 kg |
| COMPONENTS | |
| Amplifier | Digital Class D – 2 x 75 W |
| Tweeter | 1″ textile dome |
| Woofer | 1 x 4.5″ |
| INPUTS | |
| ARC/HDMI | Yes |
| WiFi 2,4 GHz | Yes |
| Bluetooth | Yes |
| RCA | Yes |
| OUTPUTS | |
| RCA Sub | Yes |
| SOUND SUPPORT | |
| Apple lossless | Yes |
| MP3 | Yes |
| WMA | Yes |
| AAC | Yes |
| FLAC | Yes |
| POWER INFORMATION | |
| Power consumption WiFi | 1.85 W |
| Power consumption ON | 5.2 W |
| CONNECT COMPATIBILITY | |
| Spotify Connect | Yes |
| Tidal Connect | Yes |
| MULTIROOM COMPATIBILITY | |
| Multiroom Audio Pro | Yes |
| Multiroom AirPlay2 | Yes |
| Multiroom Google Cast | Yes |
| OTHER | |
| Removable front | Yes |
| Number of presets | 5 |
TechX Guarantee
We understand the anxiety of shopping online in Malaysia particularly on startup and small business website; you don't get to physically hold the product before buying, how will you know if the product will live up to your expectations, ... - which is why we are committed to
Only sell/advertise products or brands that we believe in

Thoroughly research a product/model to save you time and get the most value for your money

Go the extra mile to properly package items for shipping

Rely on reputable courier service (*not necessarily the cheapest)

Provide second to none customer service (Lazada/ Shopee gets thousands of visitors a day, we have Only You to focus on)

Safeguarding your privacy & offer a seamless user experience on our ecommerce webpage

Ensure all pages and content on TechX are accessed using SSL encryption (*look for the padlock icon on the left side of the address bar...SSL allows sensitive information such as credit card numbers, login credentials to be transmitted securely)

Your satisfaction! We believe we sourced for the best quality products around, however sometimes life happens. If for any reason you are not 100% satisfied with the quality of any product, we will gladly refund your money + 20% of what your paid
In the event you still need further assurance, write to us via our Contact Form and we'll get back within 2 hours.