Our take
The Xduoo DA 100 is a speaker amplifier with a built in DAC, The DA 100 is a perfect buy if you are looking for a Speaker Amplifier + DAC + Bluetooth + headphone amplifier and you can also use a type C cable to connect to the DA 100 if you prefer wired connection to your source
Product details
Seamless Bluetooth Support
Can be connected to various Bluetooth playback devices, get rid of the shackles of wires, and even Bluetooth can output good sound quality. It provides seamless wireless Bluetooth connectivity with hi-res codec support such as LDAC, AptX HD, AptX LL, and many more.
Premium Audio Chipset
Using TI TPA3116 amplifier chip, excellent sound quality, the maximum output power can reach 50W per channel, easy to drive bookshelf speaker. It also adopts the high-performance ES9018K2M DAC chip and high-fidelity operational amplifier chip MAX97220, which can ensure high S/N and very low distortion with excellent performance parameters. This chipset eliminates noise interference and provides the users with a powerful high-resolution output.
1.3 Inch OLED Display
Using OLED display, the Bluetooth connection status/coding format sampling rate/song name and other information can be displayed intuitively, so that you can know the working status at any time.
Compact Headphone Amplifier
With strong output power, it can easily drive any kind of headphones. Moreover, designed with size(19.6*12.1*4.8cm), it's easy to carry everywhere for a real-time HiFi music experience.
Aluminum shell Processed by CNC Technology
The shell is made of aluminum alloy, and uses a block of aluminum processed by CNC technology, which has excellent shielding characteristics.

Tech Spec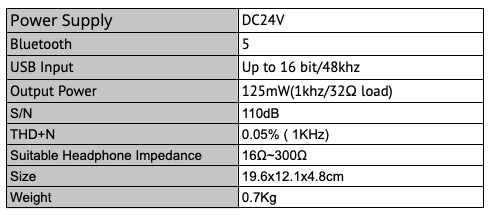 TechX Guarantee
We understand the anxiety of shopping online in Malaysia particularly on startup and small business website; you don't get to physically hold the product before buying, how will you know if the product will live up to your expectations, ... - which is why we are committed to
Only sell/advertise products or brands that we believe in

Thoroughly research a product/model to save you time and get the most value for your money

Go the extra mile to properly package items for shipping

Rely on reputable courier service (*not necessarily the cheapest)

Provide second to none customer service (Lazada/ Shopee gets thousands of visitors a day, we have Only You to focus on)

Safeguarding your privacy & offer a seamless user experience on our ecommerce webpage

Ensure all pages and content on TechX are accessed using SSL encryption (*look for the padlock icon on the left side of the address bar...SSL allows sensitive information such as credit card numbers, login credentials to be transmitted securely)

Your satisfaction! We believe we sourced for the best quality products around, however sometimes life happens. If for any reason you are not 100% satisfied with the quality of any product, we will gladly refund your money + 20% of what your paid
In the event you still need further assurance, write to us via our Contact Form and we'll get back within 2 hours.