Our take
If you are looking for a USB / bluetooth DAC with a ESS chip and has RCA / Optical / Coxial outputs than this is the DAC for you
Suitable all rounder DAC for a most speakers around the RM1000 ~ RM1700 price range
Product details
XQ-50 Pro2 is a HIFI Bluetooth audio receiver converter that adopts the QCC5125 Bluetooth receiver chip, it supports Bluetooth 5.1, supports receive SBC, AAC, aptX, aptX_LL, aptX_HD, LDAC signal. The external high-gain Bluetooth antenna is used to ensure lossless and stable signal transmission.
It adopts the high-performance CS8406 digital audio converter chip to transform the Bluetooth signal into a high-quality optical fiber/coaxial signal and output it, which provides the high-definition sound source for the digital decoder. Compatible with Android and ios devices.
The device also contains the RCA analog circuit output function.
The high-performance ES9018K2M DAC is used internally as the decoder chip to transform the Bluetooth signal into an analog signal and then provide it to a power amplifier-loudspeaker or Bluetooth speaker which can immediately change the power amplifier-loudspeaker or speaker into a wireless power amplifier-loudspeaker or Bluetooth speaker.

Tech Spec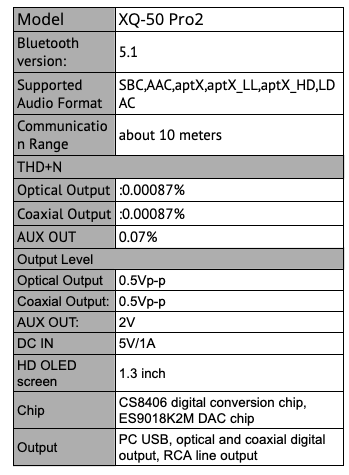 TechX Guarantee
We understand the anxiety of shopping online in Malaysia particularly on startup and small business website; you don't get to physically hold the product before buying, how will you know if the product will live up to your expectations, ... - which is why we are committed to
Only sell/advertise products or brands that we believe in

Thoroughly research a product/model to save you time and get the most value for your money

Go the extra mile to properly package items for shipping

Rely on reputable courier service (*not necessarily the cheapest)

Provide second to none customer service (Lazada/ Shopee gets thousands of visitors a day, we have Only You to focus on)

Safeguarding your privacy & offer a seamless user experience on our ecommerce webpage

Ensure all pages and content on TechX are accessed using SSL encryption (*look for the padlock icon on the left side of the address bar...SSL allows sensitive information such as credit card numbers, login credentials to be transmitted securely)

Your satisfaction! We believe we sourced for the best quality products around, however sometimes life happens. If for any reason you are not 100% satisfied with the quality of any product, we will gladly refund your money + 20% of what your paid
In the event you still need further assurance, write to us via our Contact Form and we'll get back within 2 hours.